Sang M. Han receives 2018 STC.UNM Innovation Fellow Award
April 5, 2018 - By Denise Bissell, STC.UNM
Sang M. Han, Regents Professor in the departments of Ch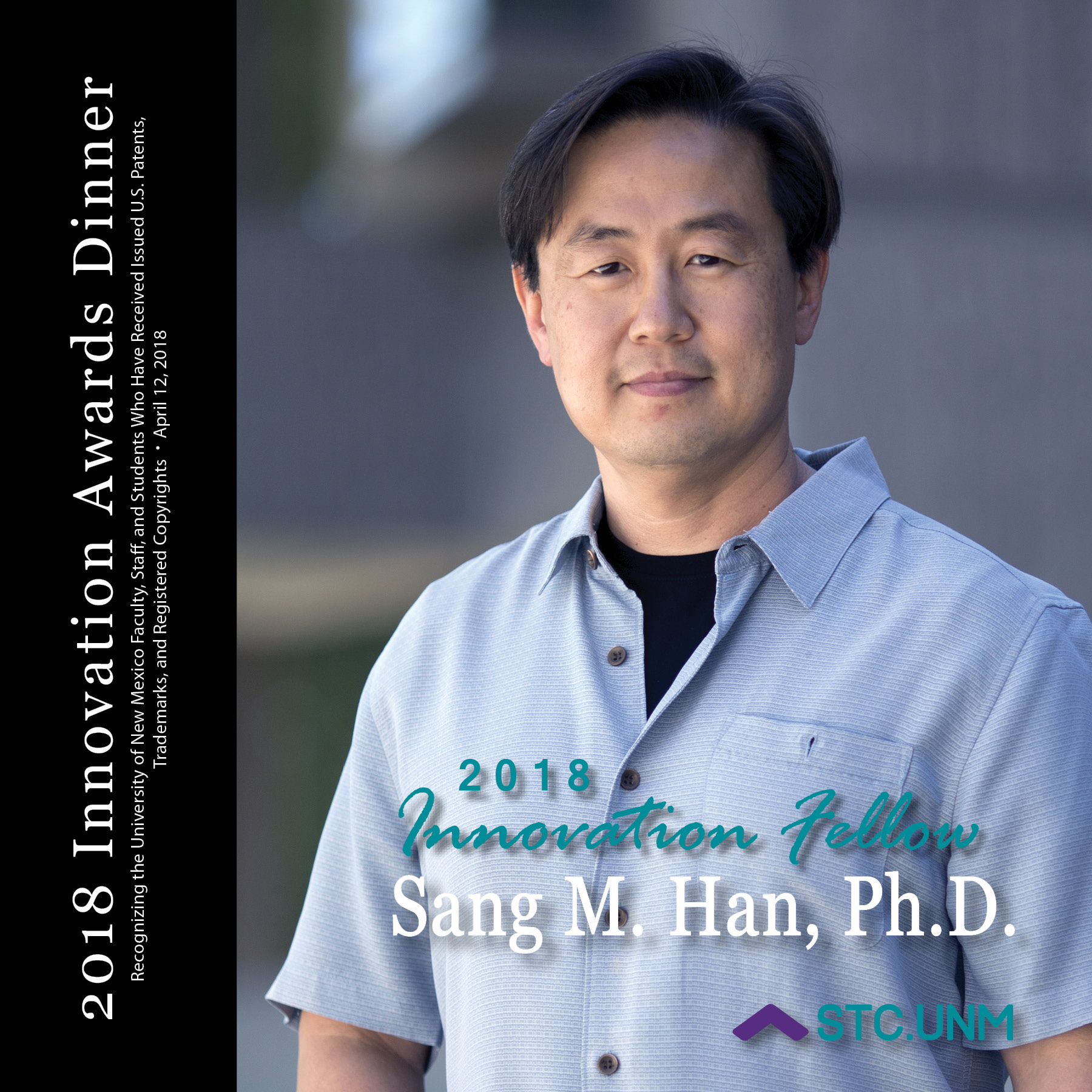 emical and Biological Engineering, and Electrical and Computer Engineering at The University of New Mexico, has been chosen to receive the 2018 STC.UNM Innovation Fellow Award in recognition of his achievements as a leading innovator at UNM.
The STC.UNM Board of Directors presents this special award each year to a university faculty inventor(s) whose body of technologies have made a significant social and economic impact on society and the marketplace. The award was presented to Han at STC's 2018 Innovation Awards Dinner on April 12.
The annual event also recognizes UNM faculty, staff and students who have received issued U.S. patents, trademarks and registered copyrights within the past year. In addition to receiving the Innovation Fellow Award, Han received an Innovation Award for three issued patents this year.
Speaking on behalf of the entire STC.UNM Board of Directors, STC CEO Lisa Kuuttila stated:
"We couldn't be more pleased to recognize this talented and dedicated innovator with the 2018 STC.UNM Innovation Fellow Award. Dr. Han excels in developing unique technologies over a wide range of electronic materials and fabrication that have real beneficial and cost-effective applications for the public. His metal matrix composite thin films are going to make solar cells and panels more durable and last far longer than they do today. His radiative cooling technologies that provide a passive cooling solution for cooling without electricity have far-reaching applications and global benefit. These are just a few examples of Dr. Han's inventive and entrepreneurial mind. He is a collaborative inventor who generously shares his expertise with colleagues and students alike. He is especially committed to mentoring underrepresented students in research and the pursuit of innovation for real-world applications."

UNM Vice President for Research Gabriel López added:
"My felicitations to Professor Sang M. Han on a well-deserved recognition by STC and UNM for his substantial innovative achievements. Sang's contributions to the areas of microelectronics processing, nanofluidics, and solar energy substantiate his wide impact in chemical engineering and materials science. Over the course of his career at UNM, Sang has demonstrated enthusiastic leadership and a genuine entrepreneurial spirit, not only with regard to his research, but also as an academic. His innovative contributions to the curriculum and student success mirror his achievements in technology innovation and translation, providing an excellent role model as a well-rounded academic entrepreneur."
Han received his bachelor's degree in chemical engineering, with honors, from the University of California at Berkeley and his Ph.D. in chemical engineering from the University of California at Santa Barbara. After postdoctoral work with Roya Maboudian at UC Berkeley and with Neil Benjamin at the Lam Research Corporation, Han joined UNM's Department of Chemical and Biological Engineering in 2000 as an assistant professor. He is currently a professor in both that department and the Department of Electrical and Computer Engineering and associate chair of Chemical and Biological Engineering.
In 2015, he received the honorary title of Regents Professor for his research and teaching excellence. His teaching and research awards include the UNM School of Engineering Teaching Award in 2012, the UNM School of Engineering Junior Faculty Research Excellence Award in 2005, and an NSF CAREER Award in 2001. In 2014, Han became director of the nanoscience and microsystems engineering program, a joint, interdisciplinary graduate degree program in nanoscience and nanotechnology offered by the School of Engineering and the College of Arts and Sciences. 
During his time at UNM, Han has disclosed 26 technologies and received 17 UNM-affiliated issued patents, and is the recipient of consecutive STC innovation awards since 2009 for a valuable and varied portfolio of discoveries. His metal matrix composite and radiative cooling technologies are optioned to two local startups: Osazda Energy, LLC and Osazda Materials Inc. He is also the chief technology officer for both companies.