School of Engineering has record number of female full professors
September 12, 2019 - by Kim Delker
The University of New Mexico School of Engineering now has six full professors who are female, an all-time high for the School.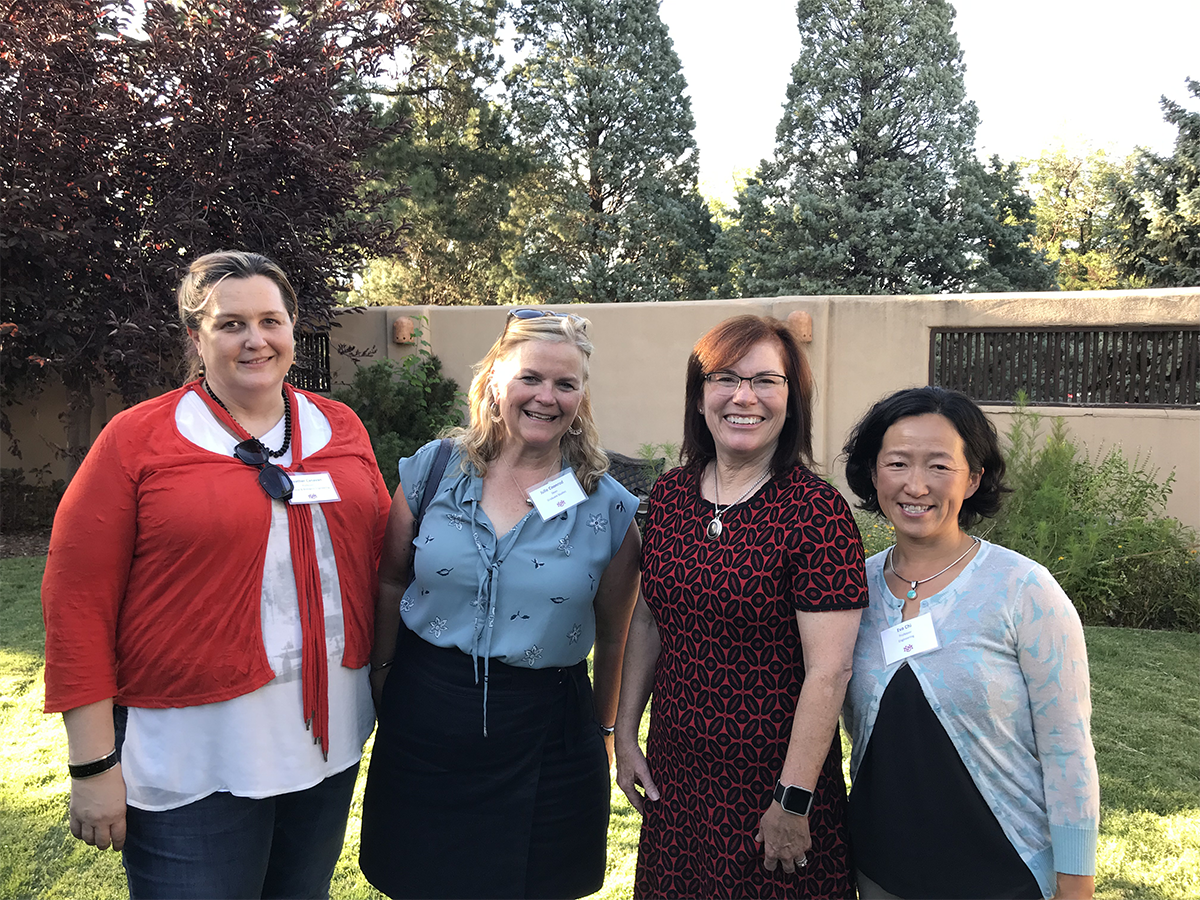 Left to right: Heather Canavan, Julie Coonrod, President Stokes and Eva Chi.
On Sept. 11, UNM President Garnett Stokes held a special gathering for newly-promoted faculty members. From the School of Engineering, Heather Canavan and Eva Chi, both professors in the Department of Chemical and Biological Engineering, were among those honored for their promotions to full professorship.
The female full professors in the School of Engineering are:
Heather Canavan, Chemical and Biological Engineering, and co-founder and director of Adaptive Biomedical Design
Eva Chi, Chemical and Biological Engineering, and associate chair of the department
Julie Coonrod, Civil, Construction and Environmental Engineering, and dean of Graduate Studies
Susan Bogus Halter, Civil, Construction and Environmental Engineering, and AGC Endowed Chair
Jane Lehr, Electrical and Computer Engineering, and director of the Center for Emerging Energy Technologies
Melanie Moses, Computer Science, and director of CS4All and Swarmathon
Christos Christodoulou, Jim and Ellen King Dean of Engineering and Computing, said the School is committed to attracting and retaining more female faculty, so he expects these numbers to grow in coming years, as current female assistant and associate professors move up the ranks and additional ones are hired.
The School of Engineering works closely with ADVANCE at UNM, a National Science Foundation-funded project to promote the recruitment, retention, and advancement of women STEM faculty at UNM. The School also recently established an administrative position — special advisor to the dean for inclusion and climate — to chair a faculty committee and create programs to reward departments that make progress toward a more inclusive climate. Mala Htun, professor of political science at UNM and deputy director of ADVANCE at UNM, began this role in fall 2019.