UNM part of project to develop technology to repair satellites, build structures in orbit
UNM part of project to develop technology to repair satellites, build structures in orbit
January 21, 2022 - by Kim Delker
Researchers from The University of New Mexico School of Engineering are part of a multi-institutional consortium selected by the Air Force Research Laboratory (AFRL) and the Air Force Office of Scientific Research (AFOSR) to pioneer research into robotic inspection, maintenance and manufacturing of satellites and other structures while in orbit.
AFRL and AFOSR selected the Carnegie Mellon University-led proposal, "Breaking the 'Launch Once, Use Once' Paradigm," as part of the newly established Space University Research Initiative (SURI). Rafael Fierro, a professor in the Department of Electrical and Computer Engineering, is leading the project at UNM.
The main goal of the project involves developing a way to repair, maintain and upgrade the 6,500 satellites that are currently in orbit. It is estimated that about half of those are not functional, which renders them useless, and repairs and refueling are nearly impossible in orbit. This means that satellites are typically good for only one use.
This consortium aims to change that, however.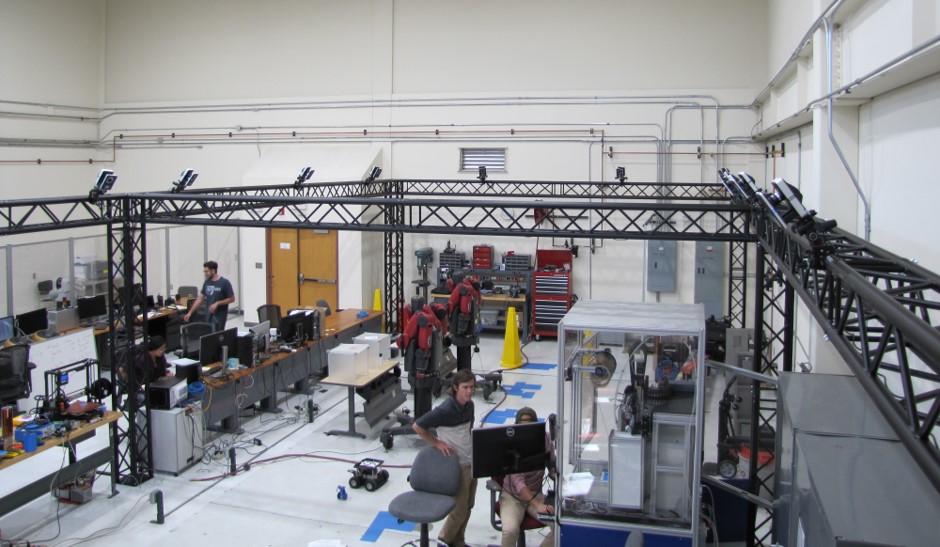 Students work in the Agile Manufacturing Lab facilities near the UNM campus.
"This is an incredible opportunity to work together toward an ambitious goal," said principal investigator Howie Choset, a professor in the Robotics Institute at Carnegie Mellon's School of Computer Science. "No one knows how to refuel spacecraft such as satellites and telescopes. If we're successful, we will."
The work will require expertise in artificial intelligence, hard and soft robotics, additive manufacturing, astrodynamics, estimation theory, control, and space systems. Researchers intend to further develop existing technologies related to self-deployable construction tools, decentralized autonomy, attaching new components to existing structures while in orbit, and intelligent and interactive inspection.
Fierro's research includes advanced robotic manipulation for space operations. He directs UNM's Agile Manufacturing (AgMan) Lab, a joint effort between the university and AFRL, which provides state-of-the-art robotics and automation equipment aimed at creating on-orbit advanced manufacturing. UNM's part of the project will be conducted at this facility, which is on UNM's South Campus.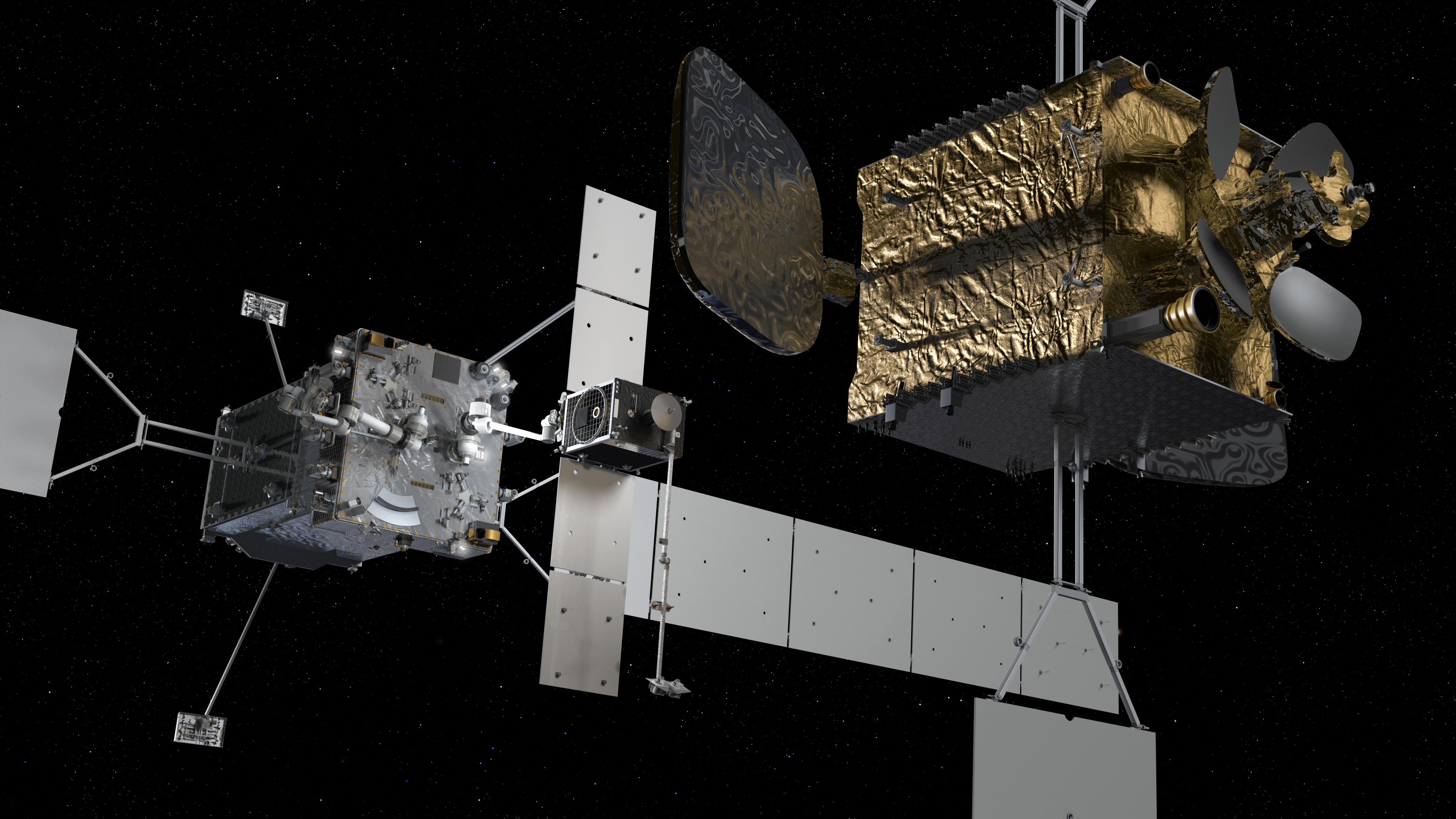 A rendering of the Northrop Grumman mission robotic vehicle using its robotic arm to service a satellite, an example of what the SURI project will strive to accomplish. (Photo credit: Northrop Grumman)
Fierro said UNM will be tasked with leveraging the successful AFRL-university-industry cooperative research model currently implemented at AgMan.
"For the last three years, UNM's AgMan has been working with AFRL enabling robotics, artificial intelligence, and additive manufacturing technology to make satellite assembly more efficient and cost-effective," Fierro said. "We are excited to be part of the first SURI program and develop novel solutions to enable on-orbit servicing and manufacturing of spacecraft via advanced robot systems and digital twins."
In addition to Fierro, a postdoctoral researcher and several graduate and undergraduate students will be working on this project.
Additional consortium collaborators are Texas A&M and Northrop Grumman Corporation, which will develop systems for intelligent inspection, dexterous maintenance and agile manufacturing of satellites in space. The University of Buffalo will lead a team from Penn State, Georgia Tech, MIT and Purdue in a second SURI proposal focused on tracking and gathering information on objects in space. Each proposal is eligible for up to $1 million in funding per year for three to five years.