UNM center partners with rural libraries to provide water operator books, resources
UNM center partners with rural libraries to provide water operator books, resources
March 18, 2022 - By Kim Delker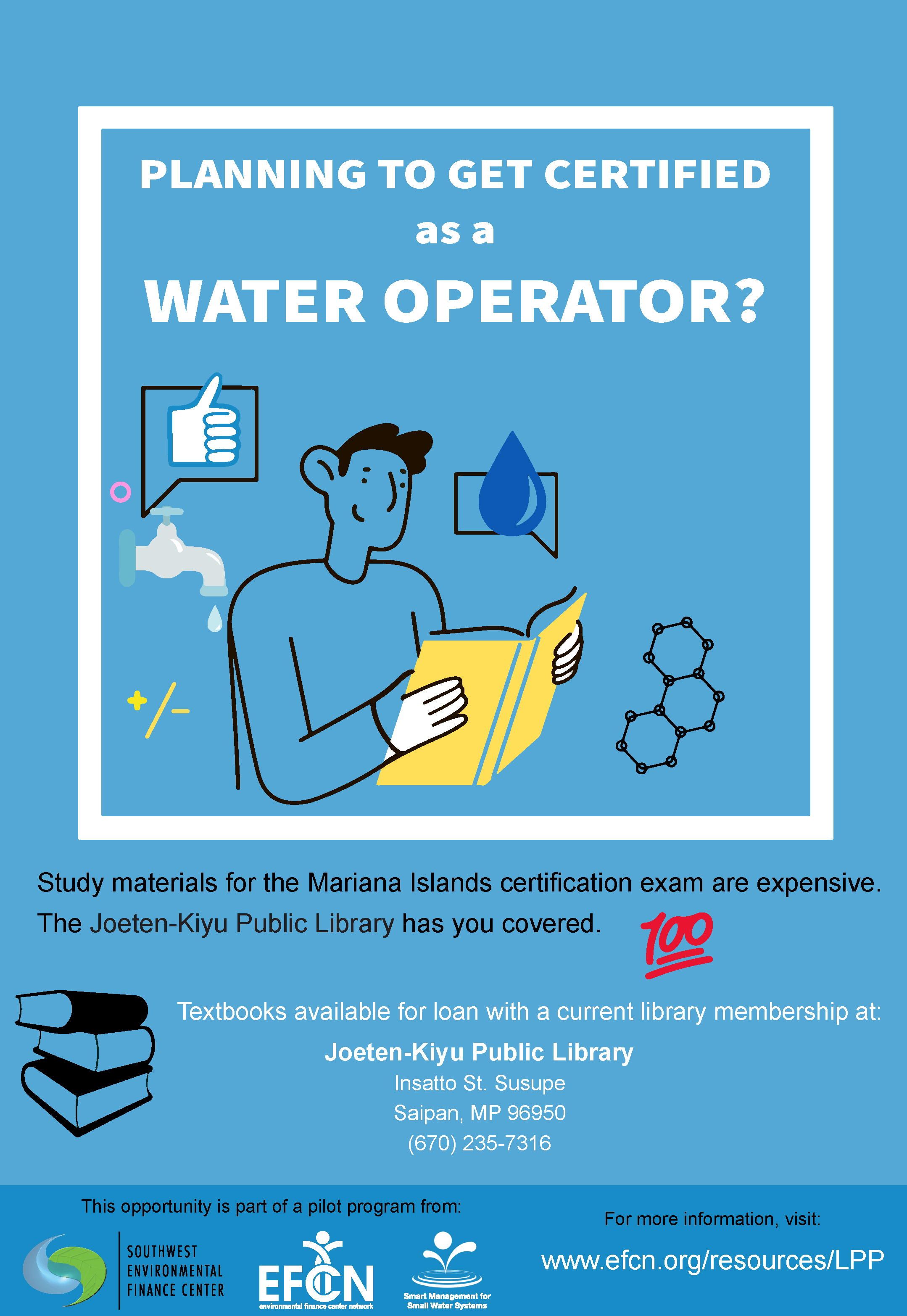 Ensuring the country has clean, safe water involves ensuring that drinking water utilities have certified water operators. However, in many smaller, rural communities, it is more difficult for operators to access training materials and the resources needed to be able to pass the certification tests.
Addressing this need is the focus of a new program from The University of New Mexico's Southwest Environmental Finance Center (SWEFC). The SWEFC is partnering with rural libraries around the United States on a pilot program that provides free access to books and other materials that water operators need to study for the initial certification exam and/or increase their operator level.
This pilot program is part of a larger program called "Building Technical, Managerial, and Financial Capacity for Small Water Systems," which is part of a $3.7 million project awarded last year by the Environmental Protection Agency.
Shannon Pepper, a program coordinator for SWEFC, is coordinating the library program along with joni palmer, a project director with SWEFC.
"Water operators are spread thin, and this can contribute to water quality issues," Pepper said. "For many operators in rural areas, it is hard to pay $100 or more for a textbook that is needed for a licensing exam. Our hope is to increase the access to these materials."
She said that water operators in rural areas face many challenges, including a high workload because they often must attend to many different facets of a community, not just water, or must operate many smaller systems due to lack of operators. Organizers hope the program could encourage more people in rural areas to become certified water operators.
"These are typically stable, long-term jobs, which can be hard to find in rural communities," Pepper said. "There is a shortage of operators in these areas, and we are hoping this program can help in that shortage."
The libraries that will be participating are:
Joeten-Kiyu Public Library, Saipan, Commonwealth of the Northern Mariana Islands
Craft Memorial Library, Bluefield, West Virginia
Dundee Public Library, Dundee, Florida
Lyons Public Library, Lyons, Kansas
Concordia Parish Library, Ferriday, Louisiana
Tularosa Public Library, Tularosa, New Mexico
Pepper said the locations were chosen because they are located in small communities that were five to 10 miles or more away from the nearest water utility.
The program is offered free to participating libraries. Each library will receive two copies each of four different textbooks relevant to the operator exam, and they can keep them after the program ends. Also, libraries will receive promotional fliers describing the resources that are tailored to each community.
The textbooks, all published by the Office of Water Programs/University Enterprises Inc., are:
Small Water System Operation and Maintenance (6th edition, 2018)
Water Distribution System Operation and Maintenance (7th Edition, 2018)
Water Treatment Plant Operation: Volume 1 (7th Edition, 2017)
Water Treatment Plant Operation: Volume 2 (7th Edition, 2020)
SWEFC has started shipping out textbooks and informational materials to the libraries. Pepper and palmer will work with the libraries to conduct surveys (before, during and after the program ends) to see how the materials are being used and how much the books are being checked out. Pepper said they will evaluate the success of the program and could expand it to more libraries in the future on a separate project. This project is set to run until January 2023.
UNM's Southwest Environmental Finance Center, a part of the Department of Civil, Construction and Environmental Engineering, offers a variety of services that promote self-reliance through innovative training. Among the center's services are tribal water operator certification, asset management for green and gray infrastructure; GIS; rates studies and financial sustainability; affordability; managerial assistance; process development; resiliency; regulatory research and analysis; and energy management.
For more information, visit https://efcnetwork.org/resources/LPP
Writer: Kim Delker, marketing manager, UNM School of Engineering, ksdelker@unm.edu
Media contacts: Shannon Pepper at spepper@unm.edu joni palmer at palmerjonim@unm.edu