Computer science graduate student to compete in climbing world championships in May
Computer science graduate student to compete in climbing world championships in May
April 26, 2022 - by Kim Delker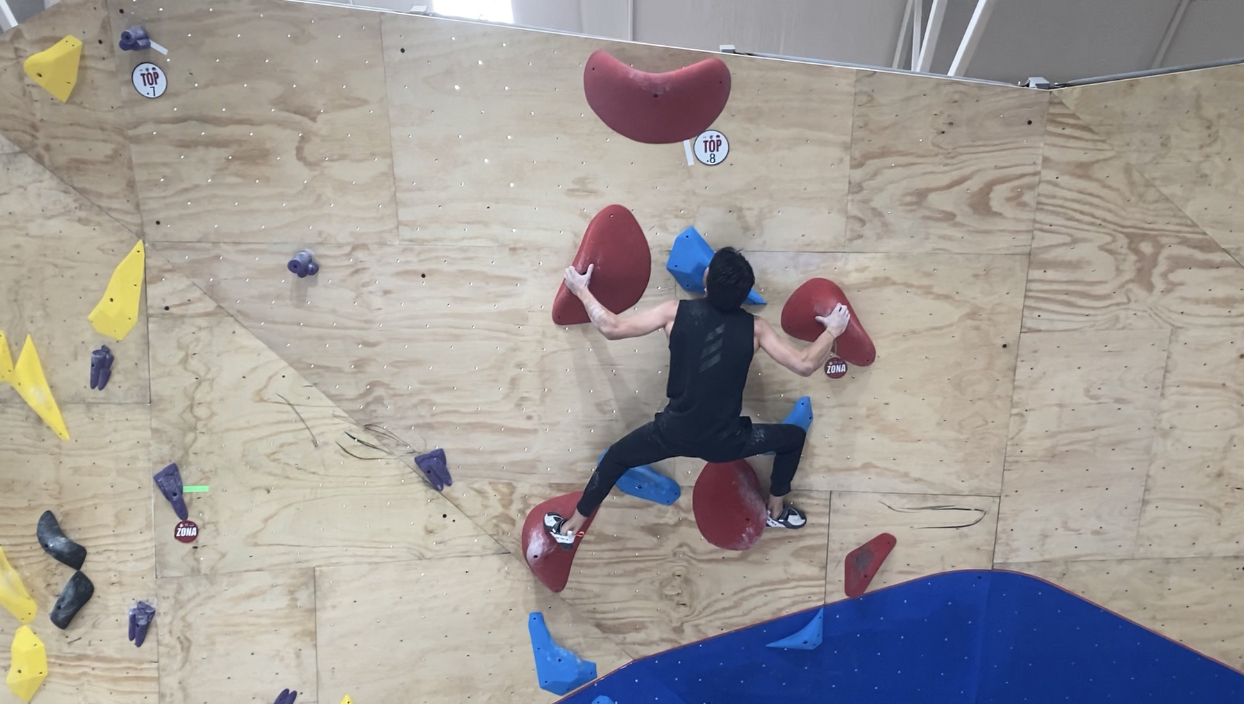 Since he was a kid, Jorge Loredo Duran was always into all kinds of sports, including cycling, martial arts, competing in a triathlon, and even playing on an e-sports team.
The Mexico City native and current doctoral student at The University of New Mexico Department of Computer Science even earned a bowling scholarship while an undergraduate in Iowa, "but that got boring," so he was able to connect with the football coach and get on a football scholarship.
He knew football was not something he would pursue long-term, though. It was on a break to Mexico City in mid-2019 when his brother introduced him to rock climbing.
"After that, I was super obsessed," he said. "It was crazy. I was like, 'Where has this been all my life?' "
From then on, he started practicing climbing four hours a day, six days a week, no matter what. "Even when I'm sick, I practice."
And all that practice has paid off in a big way. Duran will be part of the Mexican national team at the International Federation of Sport Climbing (IFSC) World Cup in Salt Lake City next month. He will compete May 27 in the men's boulder competition.
When he began climbing, he was still going to school in Iowa, so all of his training was in a gym, since there are no mountains in Iowa. Since fall 2021, he has been in the Ph.D. program with advisor Leah Buechley, studying human-computer interaction and working in her Hand and Machine Lab. Although sometimes he practices at the Sandias, most of the training is still at a gym, since the environment is much more controlled.
He varies the time of day of his training, depending on what fits with his school and work schedule, but keeps the structure of the workout the same: about an hour of warmup, two hours focusing on upper-body strength, especially finger strength, with core and lower-body work, then about an hour of cooldown. In addition to a rigorous practice routine, he also keeps a strict diet, with just the right balance of calories and nutrients.
"You have to stay as strong as you can while still being as light as you can," he said.
Although devoting hours a day to rock climbing can be exhausting, Duran said that a lot of the time, it can actually give him an extra boost.
"If I have a good day at the gym, then I'm super psyched the rest of the day," he said.
For a sport he took up only a few years ago, even he was surprised by his success, winning competitions that allow him to compete at a national championship level. And with so many athletes starting the sport in their teens, the fact that he is in his 20s made his journey all the more remarkable.
Although he may have gotten a somewhat late start, Duran said he feels like he is in the prime of his life with many good years ahead.
"There is time," he said. "I was always frustrated that I never really succeeded in any sport, so now I am so happy I can still do what I love. Socrates has a quote, 'It is a shame for a man to grow old without seeing the beauty and strength of which his body is capable.' That's what I feel like am doing now."
Duran feels hopeful going into the climbing world championship. After that, his sights are set even higher — on the Olympics in 2024 in Paris or 2028 in Los Angeles.
"I'm just getting started," he said.