Christodoulou receives IEEE mentoring award
May 5, 2022 - Kim Delker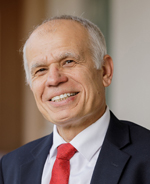 Christos Christodoulou, Jim and Ellen King Dean of Engineering and Computing at The University of New Mexico, has received the IEEE Rudolph E. Henning Distinguished Mentoring Award. The award was presented at the 2022 IEEE Wireless and Microwave Technology Conference (WAMICON), held April 27-28 at Clearwater Beach, Fla.
The Henning award, given yearly at the WAMICON conference, was established in 2009 and recognizes an individual who has performed exemplary service encouraging students and/or mentoring young engineers to advance careers in the areas of RF, microwave or wireless engineering. Factors to be considered are leadership, innovation, dedication, distinguished service and breadth of participation.
Christodoulou is also a distinguished professor of electrical and computer engineering. He became dean of the School of Engineering in 2017 and has continued teaching and mentoring students throughout his term. Over his career, he has mentored approximately 40 Ph.D. and 75 master's students.