Angel receives 2022 ACM SIGGRAPH Distinguished Educator Award
August 15, 2022 - by Kim Delker
Edward Angel, professor emeritus of computer science at The University of New Mexico, is the recipient of the 2022 ACM SIGGRAPH Distinguished Educator Award.
In connection with his award, he was invited to give a talk during the conference held Aug. 8-11 in Vancouver, Canada.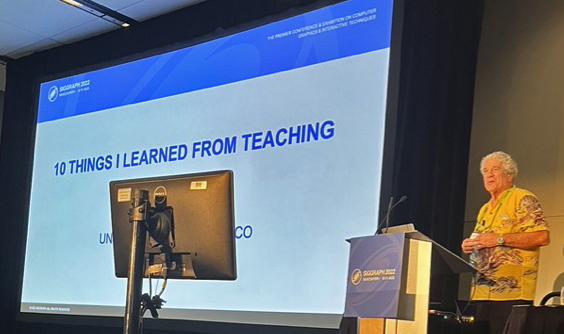 Ed Angel discusses his teaching career at the ACM SIGGRAPH conference
Established in 2018, the Distinguished Educator Award is given annually to a member for outstanding pedagogical contributions to computer graphics and interactive techniques at any educational level or within the context of any discipline. The award recognizes contributions in both innovative content and delivery. The award is presented annually during a SIGGRAPH award ceremony.
"The award means a lot to me because it's based on my whole career and it's about what I've cared the most about professionally," Angel said.
He is a former professor of two schools at UNM — the School of Engineering and the College of Fine Arts. He joined the School of Engineering faculty in 1978, first joining the Department of Electrical and Computer Engineering, then the Department of Computer Science.
He is well-known for a series of textbooks and courses that introduced a top-down approach to teaching computer graphics that allows students and practitioners in computer science, engineering, science and mathematics. His textbook, Interactive Computer Graphics, went into its 8th edition in 2019 and is used around the world.
In addition to authoring two other textbooks in the field, he also contributed to the compilations OpenGL Insights and WebGL Insights with chapters on teaching OpenGL and WebGL. He also embraced new ways of reaching people and taught an early Coursera-based Massive Open Online Course in computer graphics that attracted 14,500 people to sign up for it, reaching people around the world who would otherwise not have access to his instruction.
A native of Brooklyn, New York, he was educated at Caltech and the University of Southern California (USC) and was a faculty member at USC; University of California, Berkeley; and the University of Rochester in New York. But despite his East Coast heritage and bicoastal experience, it was New Mexico that captured his heart.
As a faculty member at UNM, his research areas were primarily in computer graphics, scientific visualization and image processing. Although his CV is filled with highly technical journal articles, he said in all his years in academia, what was most important to him was the teaching. He was the first UNM Presidential Teaching Fellow in 1993 and received a Senior Fulbright Lectureship in 1981. "I'm still passionate about education. It's fun. The students — that's what mattered to me."
He pioneered a project at UNM called the ARTS Lab — which stands for art, research, technology and science — in 2003. The ARTS Lab was formed to take advantage of New Mexico's unique combination of art, technology and culture, placing an equal emphasis on teaching, research and economic development.
Angel's out-of-the-box thinking also is evident in his involvement in the creation of New Mexico Computer Science for All, which has reached hundreds of teachers across the state to educate them about how to inject computer science and computational thinking into the classroom. He has served on a variety of community boards, including the Governor's Council on Film and Media Industries, was vice president of the board of directors for the New Mexico Supercomputing Challenge and is the former chair of the board of directors of the Santa Fe Complex. He also served on the boards of Creative Startups (Santa Fe) and the Charleston Immersive/Interactive Media Studio (South Carolina).
In 2019, the School of Engineering honored Angel with the Alumni Leadership Board Exemplary Service Award.
He retired from UNM in 2007, becoming a professor emeritus, and stays active in artistic and educational causes. He and his wife, Rose Mary Molnar, live in Santa Fe, and enjoy traveling.