In-person School of Engineering Open House returns Oct. 1
August 5, 2022 - By Kim Delker
For the first time since 2019, the UNM School of Engineering will host a fully in-person Open House event for prospective students and their families.
The event will be held 10 a.m. to 2 p.m. Oct. 1. It will be based at Centennial Engineering Center's Stamm Commons and Larrañaga Auditorium, with frequent tours and interactive events nearby. Lunch and refreshments will be provided.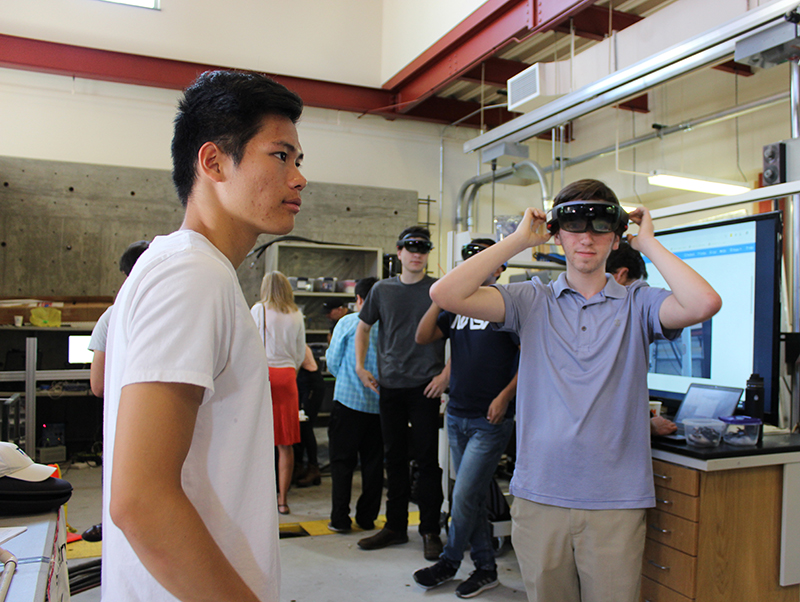 Visitors demonstrate virtual reality equipment at Open House in 2019.
The annual event gives future students and their parents an opportunity to see first-hand what the School of Engineering has to offer. On hand will be academic advisors and scholarship specialists who can answer questions about admissions, courses, areas of specialization, opportunities for students to get involved in organizations, internships, job prospects, undergraduate research and more.
In addition to activities in Centennial, labs and demos will also take place in the other engineering buildings: electrical engineering, Farris Engineering Center, and the Mechanical Engineering Building.
Tours will include the Dana C. Wood FSAE Racing Lab and Garage, with labs and demos for each of the School's six departments: Chemical and Biological Engineering; Civil, Construction and Environmental Engineering; Computer Science; Electrical and Computer Engineering; Mechanical Engineering; and Nuclear Engineering.
Registration is not required. For additional information and questions, contact Toby Tafoya, School of Engineering recruiter, at tobyago@unm.edu.