UNM-authored paper recognized by IEEE ComSoc as a Best Reading
August 23, 2022 - by Kim Delker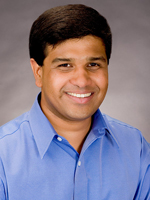 A paper written by a professor in the UNM Department of Electrical and Computer Engineering was recently selected as one of the best papers by the IEEE Communication Society (IEEE ComSoc).
Sudharman Jayaweera co-authored a paper with two of his former students called "A survey on machine-learning techniques in cognitive radios," which was published in IEEE Communications Surveys & Tutorials in 2013. It was recognized by IEEE ComSoc as one of the Best Readings in Cognitive Radio for Machine Learning, Self-Configuration, Distributed Adaptation, and Co-Existence.
The IEEE ComSoc recognizes Best Readings in certain special technical topics. Best Readings is a collection of books, articles and papers on a featured topic.