Mechanical engineering student receives New Mexico Space Grant fellowship for NASA research
Mechanical engineering student receives New Mexico Space Grant fellowship for NASA research
September 8, 2022 - by Kim Delker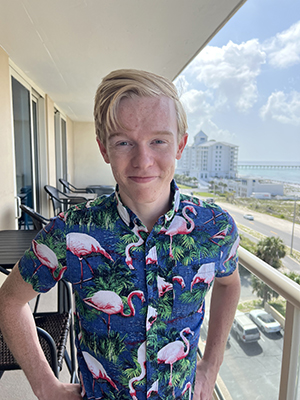 Joseph Erwin, a senior in The University of New Mexico Department of Mechanical Engineering, is the recipient of a fellowship from the New Mexico Space Grant Consortium.
The fellowship will allow Erwin to conduct two years of research of relevance to NASA, specifically focused on additive manufacturing and its characterization. He will be co-advised by Professor Tariq Khraishi and Assistant Professor Pankaj Kumar, both in the Department of Mechanical Engineering.
Erwin grew up in Portales, New Mexico, on the border of Texas. He said he was always fascinated with aviation and aerospace, so going into this field of engineering was no surprise.
"I would religiously watch documentaries about the Gemini and Apollo programs, amazed that a group of people were able to come together and slowly build a knowledge of how to make the dangerous, unforgiving journey off our planet Earth," he said. "I felt determined to become a part of that effort, deciding to become an aerospace engineer around the age of 16."
Erwin said that he thought mechanical engineering at UNM was a great choice for his interests because it allowed greater flexibility in career choices than a more narrow aerospace engineering degree. And he credits UNM with preparing him to take his childhood passion into a real-life career.
"Without the mathematical and scientific education I received in my first two years at UNM, I had no real conception of what engineers did," he said. "I feel very fortunate to have chosen a degree with applications that I find challenging as well as intellectually fulfilling. I have enjoyed getting to use my schooling to solve problems in my internships, particularly problems based in solid mechanics."
Erwin said the scholarship will allow him to earn his master's degree and pursue a career in additive manufacturing, hopefully one day working for NASA.
"I was absolutely thrilled when I found out I had received this scholarship," he said. "Not only did it mean I would have an easier time paying for the expenses associated with my education, but I would also, more importantly, be getting to perform research and present my findings at NASA's Student Research Colloquium as an undergraduate student. I am very excited to get to begin building my skills as a researcher."