Engineering donor: 'I think you can solve the world's problems by educating people'
Engineering donor: 'I think you can solve the world's problems by educating people'
March 22, 2022 - by Kim Delker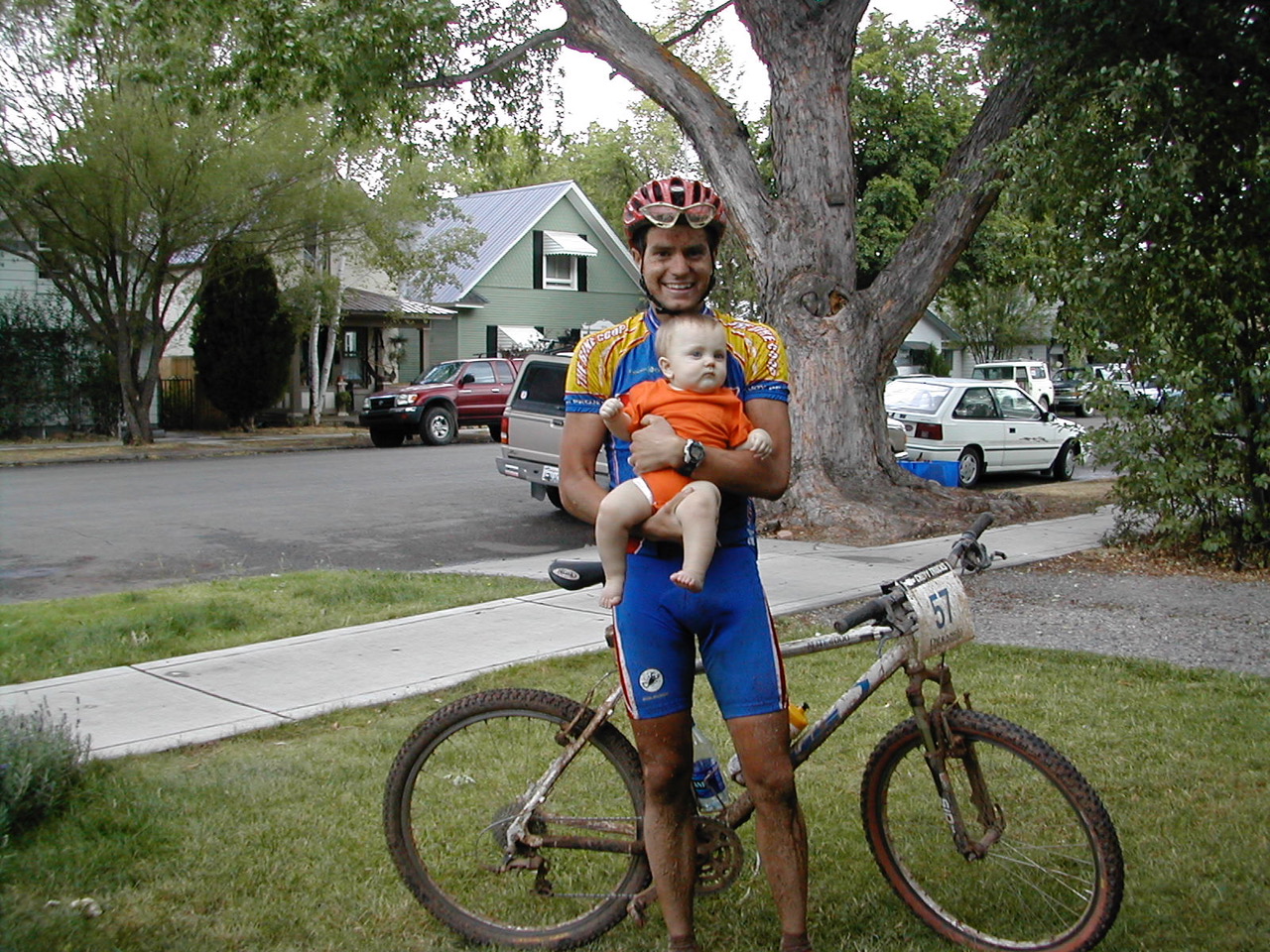 Doug Campbell shown in his mountain biking days with his son, Ethan, who is now 20 years old.
By his own admission, Doug Campbell was not a great student growing up in Albuquerque. You would more likely find him loitering around town with friends, skateboarding and getting run off by police than you would with his head in a book.
"I was a punk kid who barely made it through APS [Albuquerque Public Schools]," he said.
But made it through, he did. The graduate of Monte Vista Elementary School, Jefferson Middle School and Albuquerque and Cibola high schools, went on to be the success that few would have predicted. And now he is showing his gratitude to his hometown and alma mater in a big way.
Campbell's $5 million cash pledge to UNM will create the Gerald May Department of Civil, Construction and Environmental Engineering. It is the largest cash gift pledge to the School of Engineering, and the 12th largest for UNM, according to the UNM Foundation records. The Gerald May Department of Civil, Construction and Environmental Engineering will also mark the first endowed department in UNM history.
Campbell earned a bachelor's degree, then a master's degree in civil engineering from UNM in 2001 and 2002, respectively. But his route toward those degrees — and his successful career — did not follow a traditional template.
After spending a few years as an Albuquerque-based professional mountain biker, he decided to return to his roots in engineering and technology. He worked a few years in traditional engineering positions such as at the Air Force Research Laboratory, but all along, he knew that he was best-suited for another path.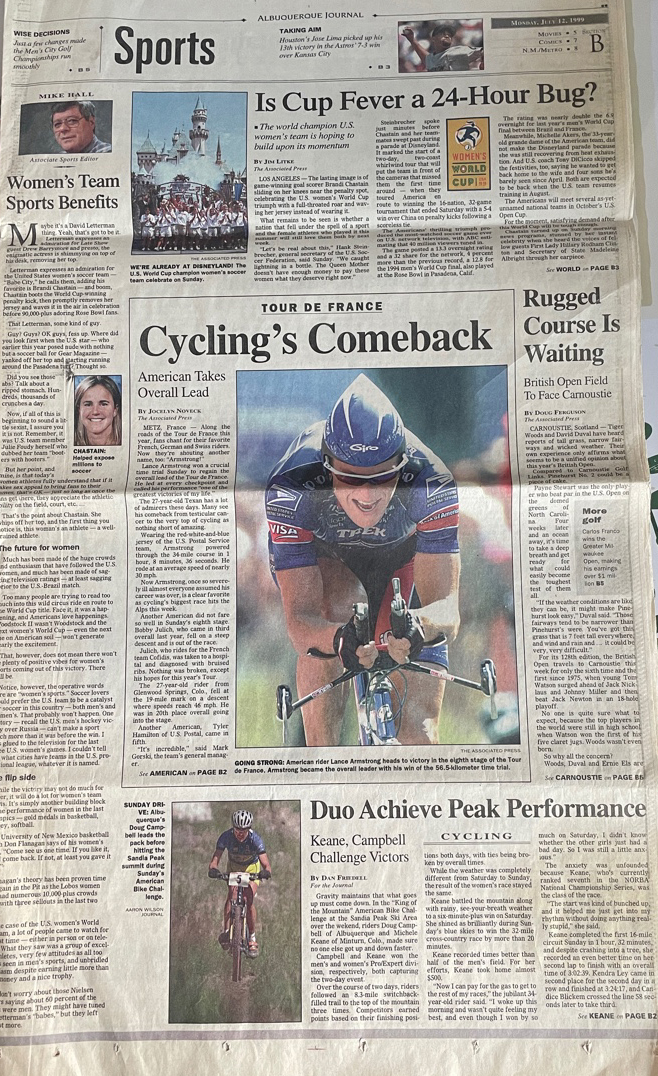 Campbell took his strong technical and engineering background from UNM and merged it with his love of ideas and adventure to become an entrepreneur. He says that there are similarities to being a professional athlete and starting your own business. Both require a lot of hard work and involve a great deal of uncertainty and risk, all of which he was comfortable with.
Campbell is the co-founder and CEO of Solid Power, a Louisville, Colo.-based company that develops all-solid-state rechargeable batteries that are designed to power longer-range, lower-cost and safer electric vehicles. These batteries are especially in demand with the growing electric vehicle market. Solid-state batteries replace the liquid or gel electrolyte contained in today's lithium-ion batteries with a solid electrolyte material, thereby enabling improvements in energy, safety and stability in comparison with lithium-ion batteries. The company, founded in 2012 and whose investors include Ford Motor Co. and BMW, recently went public on the Nasdaq.
He previously co-founded and was CEO of Roccor, LLC, which specializes in innovative, high-performance, deployable structures and thermal management solutions for satellite and terrestrial military and commercial markets. The company was acquired by Redwire Space in 2020.
Although the EV market has been around for years, Campbell did not predict the rapid growth in the last few years that would lead to such an increased demand for his product. He calls his career success "an alignment of vision and straight-up dumb luck."
Campbell is riding the tide of career success now, but he is humbled by his roots. He said he didn't have much growing up and was heavily influenced by his mother, who earned a degree in civil engineering from UNM when he was a child (he also has an uncle and cousin who earned UNM civil engineering degrees).
"My mom was a single mother putting herself through college at UNM, and so as you might imagine I spent a lot of time roaming the campus. You could almost say I grew up on campus," he said.
He feels strongly about strengthening the city, UNM and his academic department, providing opportunities to students like himself who hold great potential but may lack the resources to pursue higher education.
"I always had a philanthropic bent, especially toward Albuquerque," he said.
The state of New Mexico and the city of Albuquerque have long had challenges — crime and poverty — with too few choosing the route of higher education for a plethora of reasons. Although Campbell loves his hometown, he felt that for business purposes, it was crucial for him to move out of state to start his businesses, since states like Colorado have the appropriate entrepreneurial ecosystem and access to capital necessary to ensure corporate success. Part of Campbell's passion for giving back to Albuquerque was to change that.
"Albuquerque is an acquired taste. You either love it or hate it," he said. "I love it, but the truth is, I could never have done what I did in Albuquerque."
Ultimately, Campbell would love for Albuquerque to become a thriving business incubator, partnering with UNM in high-tech company development and keeping hometown kids like him in the city.
"This is my attempt at helping," he said. "I look at solving problems, and I think you can solve the world's problems by educating people."