Meet the Dean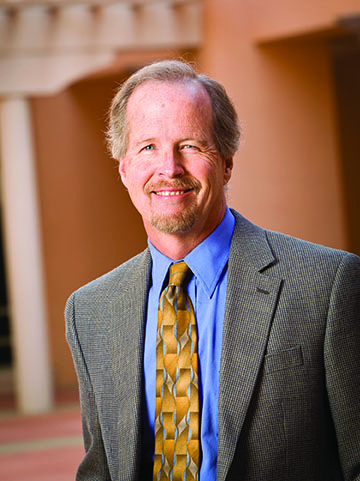 Charles B. Fleddermann
Interim Jim and Ellen King Dean of Engineering and Computing
Professor, Department of Electrical and Computer Engineering
Centennial Engineering Center, Suite 3071
Ph: (505) 277-5522
Fax: (505) 277-5521
Email: cbf@unm.edu
---
Charles B. Fleddermann joined The University of New Mexico as an assistant professor in the Department of Electrical and Computer Engineering in 1985 after working a job in industry as an electrical design engineer at Texas Instruments. He was elevated to associate professor in 1991 and full professor in 1998. Fleddermann was selected as associate chair for undergraduate affairs in the Department of Electrical and Computer Engineering in 2001 and also served as acting dean of Graduate Studies at UNM from 2007-2009.
Since 2002, he has been associate dean for academic affairs and community engagement in the School of Engineering, where he oversees the School's academic advising, the Engineering Student Success Center and is involved in curriculum approval, statewide articulation and accreditation, including ABET. He is also a longtime ABET evaluator.
He is the recipient of the Gardner-Zemke Professor of Electrical and Computer Engineering Award from 2002-2005; and was the Electrical and Computer Engineering Distinguished Teacher Award recipient in 2001.
His teaching interests include engineering ethics, microelectronics and circuit theory. In 2020, he was a co-principal investigator on a National Science Foundation-funded project called "Study of New Strategies to Combat Harassment in Engineering," and in 2013 a co-PI of "Energizing Engineering Education (E3): An RET site at the University of New Mexico Investigating Energy Research and Engineering Practice."
Fleddermann is a Senior Member of IEEE and was inducted into Tau Beta Pi and Eta Kappa Nu honor societies.
He is the author of Engineering Ethics (2011) and of (with Martin Bradshaw) Introduction to Electrical and Computer Engineering (2003).
Education
Ph.D. Electrical Engineering, University of Illinois at Urbana-Champaign, 1985
M.S. Electrical Engineering, University of Illinois at Urbana-Champaign, 1980
B.S. Electrical Engineering, University of Notre Dame, 1977