Sandia Academic Alliance
The University of New Mexico is a member of the Sandia Academic Alliance, along with the University of Illinois at Urbana-Champaign, University of Texas at Austin, Purdue University, and Georgia Tech.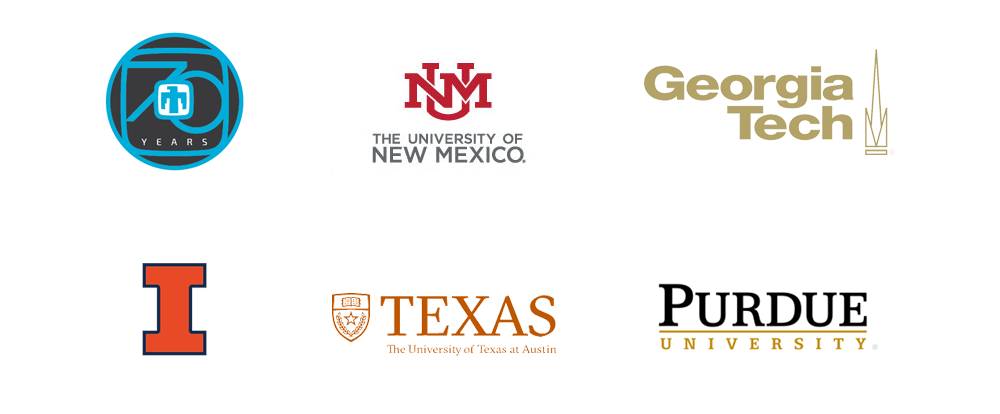 News for January 2019
Academic Alliance Campus Managers
Georgia Tech
Rebecca Horton
rdhorto@sandia.gov
Phone: 505-844-3138
UT Austin
Dave Minster
dgminst@sandia.gov
Phone: 505-284-3082
Illinois
Tom Corbet
tfcorbe@sandia.gov
Phone: 505-235-8058
New Mexico
Diane Peebles
depeebl@sandia.gov
Phone: 505-845-8087
Purdue
Ken Patel
kdpatel@sandia.gov
Phone: 925-337-0861
New Information
To look for recent SAA alumni, access the Alumni Report available via the EBI Portal. SAA will leverage the information to increase communications to this important target audience.

New "discipline teams" are being created to increase hires.

The ME and EE postings will not be up for a few weeks an announcement will be sent once they become available.

A new SAA Program Plan is under development and will be shared in February.

HR is revamping the SEE Sandia Day and will now be called Sandia "Interview Day" (date TBD).
January Campus Executive Update
Purdue Updates
Mark Ward, Professor of Statistics, and Associate Director of Actuarial Science from Purdue visited Sandia on Jan 14th. The colloquium was hosted by the Statistical Sciences Department (09136) and intended to highlight the impact of statistics on engineering and physical science applications for National defense.

Co-op program at Purdue established to include one semester sabbaticals opportunities for students to participate in "Semester at the Lab." Current institutional changes with Cyber and IT (9300).

Hypersonics Workshop with SNL, Krane, and other OSTP customers is scheduled for March 11-13th.

The President of the Society of Women Engineers is considering student opportunities at SNL.

Upcoming visits by Sandia's Mission Campaign leads will be scheduled soon (dates TBD).

Established the SENSE (Sandia-Extended National Security Externship) Program @Purdue which includes eleven active year-round interns and a part-time technical mentorship by a Ph.D. student. Both are part of an on-campus effort to establish a permanent Sandia cohort at Purdue.
University of Texas at Austin Updates
Army Futures Command meeting at UT is scheduled the week of Feb 4th. Sixteen LDRD projects are currently being worked.

MOU extension with no expiration date is still being worked.

Michelle Pang in the new UT Recruiting lead.
The University of New Mexico, NM State, and NM Tech Updates
STEM Boomerang was held at UNM on Dec 20th where leaders from the Albuquerque, New Mexico and the region converged at the University of New Mexico to meet with recent highly-trained STEM professionals who are in and out of New Mexico. The event helped connect the dots between the many highly-paid job opportunities that exist in New Mexico in the science, technology, engineering, mathematics and other technical areas and graduates from New Mexico who may believe that the state has little to offer its STEM professional.

Cyber Lunch and Learn event scheduled for Jan 24th.

Research Spotlight Forum is scheduled for Jan 29th with a focus on Machine Learning and AI. Sandia, The University of New Mexico, New Mexico Tech and New Mexico State University will present on their current work and collaboration interests in relation to this topic. Hiring and career opportunities will also be discussed. Register here.

Umbrella CRADA with UNM nearly completed.

Minority Institutes DOE Lab Call is out, and Sandia is partnered with UNM and others in Cyber and Data Sciences.

Possible shared employment agreement with NM Tech as a means to exchange personnel (similar to the LANL agreement) is under review.
Georgia Tech Updates
"Preferred" hiring event for prestigious research fellowships schedule for Feb 7th at Georgia Tech – SAA plans to invite Level II Mgrs.

Completed the FY18 GT Accomplishment Report.

Sandia Day hosted by GT is scheduled for Jan 17th and will included four technical focus areas where each institution will look for opportunities to partner on joint proposals. There will also be an all majors Career Fair for targeted graduate students.

GTRI has established a Community of Interest around Trust and an event is scheduled for April 24th in partnership with NM State.

Lee Lerner, GT research facility at GTRI will head the Government Microcircuit Applications & Critical Technology Conference (GOMAC) schedule for March 25-28th in Albuquerque, NM.

Additional engagements include: Vertically Integrated Project with graduate students, Autonomy, and projects at GTRI's CRNCH (Center for Research into Novel Hierarchies).

New engagements underway with master's level orientation program to build connections on campus.
University of Illinois Updates
Making progress on the joint strategy document (Path Forward) and Self-Assessment in collaboration with the University of Illinois.

Revisiting the 'Thrust Areas' to determine new process for selections.

Hiring metrics show an increase in the number of applicants yet are not selected for positions at SNL. ALD has requested additional data to better understand the issue.