Five for Steve Brueck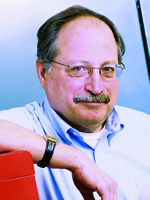 UNM Distinguished Professor Steve Brueck has mentored more than 34 students who have received advanced degrees and is a highly-published researcher in the fields of optical lithography/microscopy, nonlinear optics, and nanophotonics. As director of the Center for High Technology Materials (CHTM), Brueck has overseen the Center's growth for 26 years. Here he reflects on his own achievements and what's made CHTM such a success.
What are you most proud of in your career?
The long term success of CHTM. It's a testimony to the UNM leadership and the faculty and students we are able to recruit. The contributions of many faculty, staff, and graduate students have enabled this long track record.
What's a research highlight for you?
My group is internationally known for our work in nanoscale optical lithography and in the functional materials that this capability enables. We have contributed to epitaxial materials growth, semiconductor lasers, nanophotonics, infrared detection, and nanofluidic studies of biological structures.
How has CHTM contributed to economic development in New Mexico? 
Our most important contribution is the large number of students — about 400 — that have graduated with advanced degrees awarded for research conducted at CHTM. Many of them remain in New Mexico and are contributing to the economy and building the state's high-technology core. The faculty have started companies, often with students or colleagues from UNM or the national laboratories. CHTM has also provided access to equipment, expertise, and consulting to a range of companies.
What is the latest start-up company out of CHTM? 
Our newest start-up is SKInfrared, LLC, founded by Sanjay Krishna, professor and Regents Lecturer, and his wife Sanchita Krishna, a cancer biologist. They're collaborating with the UNM School of Medicine to apply Sanjay's infrared imaging technology to medical applications, including early detection and diagnosis of skin cancer.
What makes CHTM such a valuable partner? 
We have a multidisciplinary environment, a culture of collaborative applied research, and a well-established track record of research funding. We also emphasize intellectual property development so that our work is available for small companies to adopt and commercialize.
NOTABLES
Fellow of the American Association for the Advancement of Science
Fellow of the Institute for Electrical and Electronic Engineers Fellow of the Optical Society of America
Founding editor of IEEE Journal of Special Topics in Quantum Electronics
Awarded the 2000 IEEE Third Millennium Medal