Visualizing Information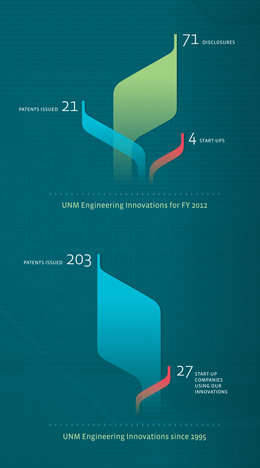 Engineering Economic Growth
The breakthrough ideas that will make our world a better place are taking shape every day at the UNM School of Engineering. A culture of innovation thrives in labs and in classrooms, where faculty train highly qualified students with unique skill sets. Those students move into the community and use their knowledge, skills, and energy to power change and economic growth. Research is fundamental to that process. UNM Engineering research expenditures have surpassed $30 million for the past four years and current annual expenditures per faculty exceed $300,000. That research yielded 21 patents as of September 2012, making UNM Engineering a leader in generating patents. The school's research isn't just stateside; researchers are building on successful international collaborations in Latin America and are expanding those efforts to Asia and Europe. The three perspectives below shed more light on these strategies and the school's direction. 
"What makes UNM a great place for advancing biomedical research? Part of the answer lies in the outstanding capabilities of our colleagues in the School of Engineering in materials synthesis and self-assembly, imaging, lithography and functional nano/micro/macrosystems. I am thrilled to see trainees on both sides of campus develop and apply the newest technologies for a better understanding and treatment of cancer. The extra effort needed to become an interdisciplinary scientist will hugely expand their career opportunities."
Janet M. Oliver
Regents' Professor and Frederick H. Harvey Chair of Pathology
Director, NM Spatiotemporal Modeling Center
Director, NM Cancer Nanotechnology Training Center
"The worldwide shortage of qualified engineers demands innovative solutions that respond to present global challenges. Clearly, no institution alone can confront these global multilingual and multicultural challenges. Partnerships are essential. We seek partners to create undergraduate and graduate student exchanges and joint entrepreneurial activities that take ideas from the laboratory to the marketplace on the world stage. Our collaborative initiatives span Latin American, Europe and Asia."
Ramiro Jordan 
Associate Dean for International Relations; Associate Chair and Director of Undergraduate Programs, Department of Electrical and Computer Engineering; Founder and Executive VP, Ibero-American Science and Technology Education Consortium (ISTEC)
"The School of Engineering is at the forefront of preparing the graduates that the state and the nation will need. As a leader in engineering education, research, and service, the school focuses on brainforce development, and graduates engineering and computer science professionals who are ready to work anywhere. UNM Engineering is producing broadly educated students who may work in companies that have not yet been created, on technologies yet to be devised, to create solutions to specific problems, but to also help shape the intellectual edifice of humanity."
Chaouki Tanios Abdallah 
Provost
Executive Vice President for Academic Affairs