Capping it Off
Seniors apply four years of learning to capstone projects
Lectures and labs. Papers and presentations. Textbooks and tests. After years of hard work in the School of Engineering, undergraduates face one last challenge - the capstone project. The senior project challenges engineering students to apply everything they've learned as an undergraduate. The capstone tests students' knowledge and helps them hone their creativity and teamwork skills so that they're well prepared for the workplace.
Every department has a senior capstone requirement, but the projects vary from company-sponsored tasks to those designed and managed by the School of Engineering professors. In the past year, mechanical engineering students could choose from two industry-sponsored projects or join the FSAE team, a group that receives course credit for building a formula race car for a national competition.
Students in electrical and computer engineering work on their senior projects over two semesters and can pursue industry-sponsored projects or develop their own. This spring, a team of four electrical and computer engineers began developing a hydroelectric generator that could be hooked to a residential water line. The goal was to use residential water lines to generate power that can reduce a home's energy bill. This fall the team will build a prototype of their generator and finish a feasibility study on the design.
Computer science students work in teams on a two-semester capstone project where they research, develop, and test a computer program to solve a real world problem defined by the faculty. For a recent capstone called "Project Pay Me," competing groups developed the software to run a time card reporting system for student employees in the Computer Science Department.
Arup Maji, chair of the Civil Engineering Department, says the capstone projects have many benefits. "The ability to work on real-world problems while taking classes is a unique opportunity made possible by UNM's location in a major metropolitan area," says Maji. "In addition to providing valuable educational and team experience, capstone projects boost the confidence of the seniors before they enter the workforce."
Last spring, two student teams from chemical engineering and civil engineering pursued unique, challenging capstone projects to round out their experience at UNM.
Chemical Engineering - Excelling at WERC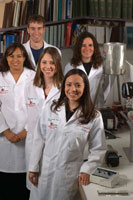 The UNM chemical engineering seniors donned their monogrammed lab coats and double-checked their bench scale water treatment model. As judges looked on, a team member carefully poured a gallon of water into the model. Then they waited.
Michelle Costa, David Gorm, Tricia Padilla, Emily Pincus, and Alicia Sanchez were in Las Cruces participating in the WERC Annual Environmental Design Contest in April. WERC, a consortium for environmental education and technology development, hosts the annual competition for college students from around the world. Participants choose from eight real-world environmental problems and use their engineering skills to solve them. The UNM team had other choices for their capstone project, but liked the challenge presented by WERC. "The fact that this was a competition was a motivating factor," says Pincus.
From the eight tasks, the UNM team chose Task Five, which focused on removing tetramethylammonium hydroxide (TMAH) from a liquid waste collection system. TMAH is a chemical used in lithography, one of the first steps in the semiconductor manufacturing. Currently, semiconductor plants discharge the chemical into a sanitary sewer. The challenge for WERC competitors was to find a more effective, efficient way to remove TMAH.
The UNM team evaluated different water treatment techniques and ran numerous tests before designing a bench scale model that combined reverse osmosis with an ion exchange.
Many Right Answers
At the competition, the UNM team presented their work to a panel of judges, chosen for their expertise in water treatment technologies. The judges not only evaluated the team's technical accomplishments, but also their ability to work as a team, and their understanding of the legal, economic, and environmental issues related to the plant-scale implementation of their water treatment method. Their final challenge was to use their model to treat a gallon of TMAH-laced water. The team's system worked perfectly and they won second place, as well as compliments from competing teams and the judges. "We competed against schools with many team members and a history of winning, and we did really well," says Padilla.
During the semester, the students had a dedicated, interdisciplinary team of mentors to turn to for guidance. Bruce Thomson, University of New Mexico regent's professor of civil engineering and director of UNM's water resources department, and Kerry Howe, assistant professor of civil engineering and water treatment expert, served as academic advisors for the team.
Geoff Courtin, a chemical and nuclear engineering research engineer, also mentored the team and helped procure equipment for the bench scale model. Courtin, who is a past WERC participant himself, also attended the week long event with the team. He says the WERC competition gives students insight into real world engineering. "In engineering there are many solutions that will solve a particular problem, but very few that are suitable given specific design constraints," says Courtin. "In this competition, students had to grapple with all the constraints that they will experience in their working careers. This gives them a sense of what engineering is like in the real world."
Civil Engineering - Students Go Roundabout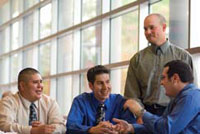 The intersection of Eighth Street and Central Avenue on the west end of downtown Albuquerque is a tangle of roads intersecting at odd angles. An array of signs and traffic lights only add to the confusion. Over the years, the area's odd geometry and confusing signage have caused numerous accidents and countless headaches for motorists, pedestrians, and bicyclists alike. As their senior capstone project, a team of three UNM civil engineering seniors, Brian Patterson, Chris Grgich, and Isaiah Pedro, decided to find a better way around the intersection-literally.
City planners had already decided to replace the current intersection with a roundabout. It would be the city's first. The novelty was one of the reasons the students chose the project. "This would be Albuquerque's first major roundabout. It would be really interesting to see it once it was completed," says Pedro. The circular intersections reduce accidents, improve safety, and enhance traffic flow. Because this type of intersection is new to the city, the project parameters required the students to create an informational brochure to educate the community about how to use a roundabout.
Engineers from Gannett Fleming West, Inc. (GFW), the Albuquerque branch of the international planning, design, and construction management firm that holds the city contract to design the roundabout, mentored the students. The company gave the students office space, a computer, and full access to company resources. More importantly, the firm assigned three of its engineers, Matt Grush, David Wilson, and Matt Nighbert, to mentor the team. The students worked at the GFW offices about three times a week where the consultants kept an open door policy. "It was great that Matt and the other consultants always made themselves available for questions," says Pedro.
In his role as a mentor, Nighbert came full circle with his capstone experience. Nighbert worked on his own civil engineering capstone project at UNM in 2004. He says being involved in capstone projects benefits the company as well. "This process helps Gannett Fleming network. By working with the students we also work with the UNM faculty," says Nighbert.
A Blank Slate
For the design of the project, students had a blank slate, but they had to address safety concerns and traffic flow challenges. One of the biggest challenges was creating a roundabout that could accommodate large emergency vehicles and the city's 60foot long, articulated Rapid Ride buses.
The team mapped the original intersection, timed lights, and monitored traffic flow. After designing their roundabout, the students tested the design using a computer software program that simulated traffic flow through the intersection. They also used a computer program to confirm that the roundabout's turning radius would accommodate city buses, fire trucks, and tour buses.
The team's final design transformed the tangle of roads into an elegant, landscaped, five-spoke roundabout, which reduces conflict points in the intersection by fifty percent. "The UNM team's resolution to the Eighth Street Roundabout is a good one," says Nighbert. "Their design has many of the same features as the city-approved design." Construction of the roundabout was slated to begin this past summer.
While their specific design won't be implemented, the team came away with valuable experience. "The main benefit is that we got to apply what we learned in school to an office setting. You learn how the whole process works," says Patterson.
Nighbert says that beyond plan sets and learning about how to work with other professionals, the students learned one of the most important aspects of civil engineering. "You have to be able to present these projects in a way that people can understand them. They learned how important communication is for an engineer."
STC Pursues Patents
Cigar steamer/heater. Spartan automatic faucet and soap dispenser in one. Skateboard ground lighting.
Those are just a few of the inventions that began as undergraduate engineering projects and are now possible proprietary products, thanks to the Science and Technology Corporation (STC). The STC is a nonprofit company owned by UNM that helps students and faculty transfer their inventions to the marketplace by securing patents and exploring commercialization options. Student inventors are involved every step of the way. "I think the area of commercialization is a really important aspect and a valuable skill to have when students begin their careers," says Lisa Kuuttila, president and CEO of STC.
This past spring a team of mechanical engineering students took their senior design project to STC for consideration. Laura Reed, Travis Beaudin, and Eric Conklin combined functionality and aesthetics to create a skylight that incorporates a solar water heater. Fins on the solar panel absorb solar radiation and transfer the heat to water that moves through a pipe in the system. Three or four of these low cost, energy efficient units could heat 65 percent of an average home's water. STC has filed a patent application on the skylight and is now researching the product's marketplace potential. Several companies have expressed interest in learning more about the technology and the possibility of licensing it. Whether or not their product is produced commercially, Reed says the experience has been invaluable. "STC has the experience, knowledge, and time that we don't have. I'm learning a lot from STC as we move through this process."