Interdisciplinary Inventors
Interdisciplinary Inventors
Imagine the amazing results if scientists from diverse backgrounds-biology, chemistry, electrical engineering, and physics-crossed their scientific boundaries and collaborated on developing better cancer treatments, more efficient water purification processes, and new energy sources.
With the implementation of a new program and funding from a special grant, that interdisciplinary approach to problem solving is already underway at UNM - and scientific breakthroughs could be just around the corner.
UNM joins Rutgers University, University of Washington, and Northeastern in sharing a $12.8 million grant from the National Cancer Institute (NCI), which is part of the National Institutes of Health and the National Science Foundation. The grant will fund the Integrated Graduate Education and Research Traineeship (IGERT), a program that will help UNM expand its commitment to combining education and research by establishing an integrated training program for doctoral students researching how nanoscience and technology can be used to discover better ways to diagnose, treat, and ultimately, prevent cancer. The UNM IGERT is part of a nationwide program that provides interdisciplinary training for Ph.D. engineers and scientists who then use their technical and professional skills to solve the world's most pressing challenges.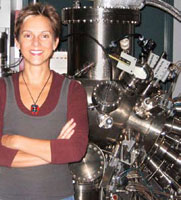 UNM's IGERT, entitled "Nanoscience and Microsystems," gives doctoral students cross training in technology, science, engineering, and mathematics that they can then apply to cancer nanotechnology research. The four-year program leverages the university's cancer research treatment center as well as its strengths in materials synthesis, self-assembly, and nanolithography. "The reason UNM is so uniquely qualified for this IGERT is, among other things, its strong cancer research treatment center and our significant collaborations with the national labs in New Mexico," says Diana Huffaker, associate professor of Electrical and Computer Engineering at the Center for High Technology Materials and principal investigator on the IGERT. "The development of our new Nanoscience and Microsystems Ph.D. degree program and our extremely diverse student body and faculty are also important strengths."
The first group of eight IGERT fellows starts their training this fall. They will rotate through three different labs in their first year. Then the IGERT fellows select an advisor and focus on their specific research interest for the remaining three years of their program. Besides pursuing research, fellows take a series of five core courses in nanomaterials, microsystems, and nanotechnology. Participants can choose electives to complement their coursework, including courses from UNM's new Nanoscience and Microsystems Degree Program. The program is one of only a few of its kind in the country. A joint effort with the College of Arts and Sciences and the School of Engineering, the Nanoscience and Microsystems Degree program highlights UNM's nanotechnology research, including informational nanotechnology, nano-bio interfaces, and complex functional systems.
One of the IGERT's strengths is its truly interdisciplinary nature. More than 30 faculty members from the School of Engineering, the University of New Mexico's Center for High Technology Materials (CHTM), the College of Arts and Sciences, and the UNM Cancer Research and Treatment Center are collaborating to advise, teach, and train the IGERT fellows. "This IGERT is a platform for breaking down some of the barriers, cultural as well as technical, between the engineering and medical graduate degree programs," explains Huffaker.
Not only do IGERT fellows gain training and a diverse knowledge base, they also earn $30,000 a year, and the program pays for their tuition and fees and some research materials. When they graduate from the program, fellows can put their sought-after skills and experience to work at corporations with nanotech divisions or at the Center for Integrated Nanotechnology (CINT), a partnership between Sandia National Laboratories and Los Alamos National Laboratory.
By participating in the IGERT, the university, and the School of Engineering in particular, benefit from new graduate fellowships, innovative education and research programs, and cross campus collaborations. "Developing the new courses in response to the IGERT ensures that the ideas originating in cutting-edge research are immediately reflected in the graduate curriculum," says Kevin Malloy, associate dean of research.