Intelligent Energy
Researchers help solve the energy challenge with smart buildings and a smarter grid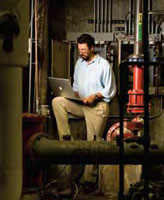 The numbers at the gas pump keep rising, demand for oil is skyrocketing, and political unrest around the world is destabilizing oil supplies. While America relies on fossil fuels to satisfy 85 percent of its primary energy demand, there is mounting concern about global warming. Looking through that lens and considering the impact of fossil fuels on the economy, the environment, and national security, our nation's energy situation looks dire.
Even with solar power fields and wind farms sprouting around the country, there is no single resource - no "silver bullet" - that can replace the volume of energy produced by fossil fuels. And when you consider that demand for electricity is expected to increase by 40 percent in the next 20 years, the picture becomes even more challenging.
So what's the solution? One UNM researcher says a big part of the answer is simple: Get smart. Through his research, Andrea Mammoli, associate professor of mechanical engineering, is discovering smart new conservation techniques, more efficient ways to utilize renewable energy sources, and wise approaches for using every energy source.
Old System, New Potential
Mammoli's original focus was optimizing the energy production and conservation potential of one of UNM's most unique buildings. When the Mechanical Engineering building opened in 1980, it was a model for energy conservation and solar power technology. Its unique internal heating and cooling system and rooftop solar panels reduced the building's energy use to just one-third of that used by other buildings. But, as energy prices dropped in the '80s and '90s, the system fell into disrepair.
With prices skyrocketing again and concern about global warming on the rise, Mammoli and Peter Vorobieff, associate professor of mechanical engineering, decided to refurbish the system, with the help of Physical Plant Department engineers Hans Barsun and Robert Notary and students Mario Ortiz, Will Brenneman, Anthony Menicucci, and Dan Fisher. "We're trying to study performance as well as economics," explains Mammoli. "We want to save energy and see how economical it is to produce these energy savings."
The new solar array is a hybrid of 124 square meters of unused 30-year old solar panels and 108 square meters of state-of-the-art vacuum tube collectors. The team also renovated and simplified the building's internal system to include an absorption chiller, thermal storage tanks, and supplementary heat exchangers that help the solar system to heat and cool the building.
The team added a digital controller that automatically adjusts system parameters such as flow rates, fan operation, and building temperature as demand for power changes throughout the day. That flexibility conserves energy and makes the building an excellent teaching tool. Eventually students will use the system for real life demonstrations of computer-generated energy consumption models and programs.
The New Mexico Energy, Minerals and Natural Resources Department provided a grant of approximately $200,000 to fund the building's solar system renovation. Mary Vosevich, director of UNM's Physical Plant Department, helped coordinate an additional $490,000 in funding from the UNM Building Renewal and Replacement funds to renovate the building's air handling system and to assist with extensive reconfiguration of the original thermal storage system. The U.S. Department of Energy's Office of Electricity provided a further $42,000 to install instrumentation and control equipment. Dave Menicucci and his group at Sandia National Laboratories provided design input based on their 30 years experience in solar thermal systems.
The new system is expected to reduce the peak electric power demand by approximately 50 percent by shifting the cooling load to the solar chiller and to night-time charging of the thermal storage tanks. It will also reduce carbon dioxide emissions by about 100 tons annually. Mammoli says that while the system shows what can be achieved with existing technology, a single building won't impact the grid substantially.
Multiplying the Power
What will make a big difference is linking large groups of buildings like the ME building and enabling them to communicate with the power grid. Such a "smart grid" is a system that combines technology and intelligent distribution sources to enhance the entire system's ability to use renewable resources like wind and solar power. "I believe a smart grid is a key enabling component in the solution to the energy problem," says Mammoli.
Here's just one example of how the system would work: With a smart grid in place and more electric cars on the road, owners could recharge their cars at special parking lot charging stations. The power company would signal the cars to charge only when inexpensive, clean renewable resources like wind power were available. "The cars would create this huge storage capacity for intermittent renewables that we didn't have before," explains Mammoli. That's just the start. Homes, buildings, and entire city blocks would also be part of the smart grid.
UNM's campus will lead the way. In 2006 while Mammoli was concentrating on refurbishing the ME building, Jack McGowan was searching for a smart grid demonstration site. McGowan is president of Energy Control, Inc., an Albuquerque-based energy service company and system integrator that applies intelligent building systems for comfort and security. He is also chair of the U.S. Department of Energy GridWise Architecture Council (GWAC), a team of industry leaders shaping the development of an intelligent, interactive electric system.
When McGowan heard about Mammoli and the ME building renovation, he knew it would be an ideal site. "Andrea has a passion for using this opportunity to position UNM as a national center of excellence for smart energy," says McGowan. Mammoli was equally inspired by the opportunity. "My thought process changed from saving energy as a standalone application to incorporating it with the rest of the buildings on campus and the grid. It's a much more valuable thing to do."
A Smarter Campus
Mammoli says campus buildings are currently "dumb entities" in relation to the grid. "They do their own thing based on what their controller says and the grid responds. We're trying to make them relatively intelligent entities that will take into account their own requirements and what's going on around them." He says the buildings will use occupancy rates, energy pricing information, and real time load on the grid to decide how to run their internal systems. The smart grid would include financial incentives for customers responding to requests from the power company.
Backed by a grant of over $500,000 from the U.S. Department of Energy, Office of Electricity, the team is busy developing UNM's smart grid. A key component is a portal used to share information between buildings, UNM physical plant, and Public Service Company of New Mexico, the local power company. If PNM needs UNM to shed load during peak demand times, the information will be exchanged on the portal and it will evaluate which campus facilities have the most capacity to reduce demand, then adjust the system accordingly.
Don Lincoln, a mechanical engineering doctorate student working with Mammoli, is working on the project. His research includes classifying campus buildings by their energy usage, helping to develop the portal, and assessing how PNM could compensate users for participating in demand-response programs.
The process is already yielding answers. "We're getting more accurate results in estimating energy savings than other researchers because we use fuzzy logic that adds information on building occupancy to determine how much energy is used," says Lincoln.
The team is also receiving accolades for the project. Recently, the DOE and GWAC gave the team a GridWise Applied Award recognizing the project for their activities and vision in smart grid implementation.
Mammoli estimates it will take at least five years-and a lot more work-to make the UNM smart grid fully functional. It will be longer still until similar grids are in place across the country and the world. Our collective future depends on how engineers like Mammoli and his team use their knowledge and skills to create intelligent energy strategies that help us overcome those difficulties.