Five for Catalin Roman: Five questions for the new dean of the UNM School of Engineering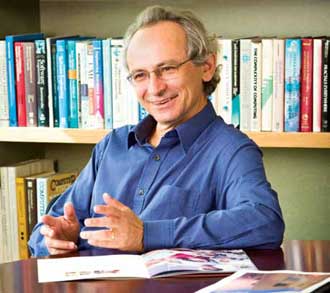 Born in Bucharest, Catalin Roman decided to pursue computer science and an academic career at the age of 14. He was able to fulfill his dream when he became the recipient of a Fulbright Scholarship."It was literally a one in a million chance, and I got the opportunity," says Roman.
After earning his doctorate in computer science and engineering from the University of Pennsylvania,he joined the faculty of Washington University in St. Louis. As the head of the Department of Computer Science and Engineering, Roman had a significant impact on its research expansion, faculty growth, and standing in the University and the country. As a researcher, Roman and his collaborators have made seminal contributions to the emerging area of mobile computing.
1. In your career, what are you most proud of?
I've always felt that shaping students' lives and helping my colleagues do the same has been the most important thing that I've done as a faculty and as an administrator.
2. What is one of the UNM School of Engineering's greatest strengths?
People are the SOE's greatest strength. We have a very diverse, intelligent, creative group of people here.
3. What is one of the SOE's challenges?
Most of the challenges will come from the gap between resources and our high aspirations. For a public institution in this economic climate, private and corporate support is crucial. In addition, we need to maximize how we use our intellectual and organizational resources and our creative energy.
4. What is the SOE's greatest potential?
It's simple — impact. The school has incredible potential and we have to leverage it to help students embark on exciting careers, contribute to economic development, and solve global challenges.
5. What are some changes you'd like to make at the School?
I hope to increase the visibility of the school locally, nationally, and internationally. I plan to have the school more deeply involved with governmental, public, and private institutions across New Mexico and have it emerge as a major contributor to economic and social developments.
Our faculty is already involved in many initiatives that cut across school and departmental boundaries in areas such as materials, renewable energy, biomedical engineering, and high performance computing. My vision is to make collaborative education and research the norm in our university.