Changing the Face of Engineering
Changing the Face of Engineering
Diversity Programs help minority students excel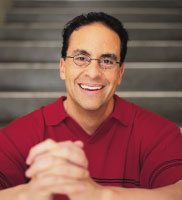 Walk the winding pathways between the many buildings at the University of New Mexico's School of Engineering (SOE) and you will see students from Native American tribes, Hispanics, African Americans, students of Asian descent and many other cultures. This diversity reflects New Mexico's rich cultural heritage, but it also represents a trend in education, says Steve Peralta, director of Diversity Programs in the School of Engineering. "There are some interesting statistics showing that in the next ten years, the number of Hispanics graduating from schools is going to be well above 50 percent. UNM really needs to position itself to meet the needs of those students. Having a program like ours makes a big difference and makes it more community based."
UNM's student body and the demographics of the SOE are on the leading edge of that trend. In fact, 46 percent of the SOE student body is from a minority population. "In terms of diversity, this is a very high percentage for a school of engineering," notes Peralta.
The SOE has had support programs for minority students for decades. But in 1998, the school formalized its services into one comprehensive effort called Diversity Programs. Today, free mentoring services, one-on-one advising, special scholarship opportunities, professional development workshops, and even a computer lab are available for minority students in engineering, math and science. The programs extend well beyond support services to also include student organizations, conferences, recruiting efforts, outreach and career development opportunities with corporations and government organizations.
And the programs are working. A formal tracking system is being developed, but anecdotal evidence suggests that students who participate in Diversity Programs stay in school longer and do better than those who do not. "In the SOE, around 70 percent of first-year students continue on to the second year. If students are involved with Diversity Programs, that number goes up," explains Peralta.
Building Social Bridges
Improved grades and student retention are key outcomes. But the programs also help minority students overcome social and cultural barriers that stop them from achieving their full potential, says Peralta. "Sometimes students are a little afraid to seek out the help themselves. The program helps students figure out a place to go and how to be able to connect with other students."

Some students receive assistance long before they arrive on campus. Shaun Tsabetsaye, an electrical engineering senior from Zuni Pueblo, New Mexico and President of the American Indian Science & Engineering Society (AISES), has benefited from Diversity Programs since the eighth grade. Each summer since then, Tom Cummings, a Diversity Programs coordinator, has mentored Tsabetsaye. "Not only have the programs opened many possibilities for me, but they've also enabled me to create footholds to establish myself and achieve my goals," says Tsabetsaye. Next year, he will enroll in UNM's graduate school to study optics and, appropriately enough, K-12 educational outreach.
The Summer Introduction to Mathematics, Engineering & Science (SIMES) program is another successful outreach effort. SIMES, an intensive "bridge" program designed for minority students but open to all incoming freshmen, prepares students interested in science and engineering for college. During the month-long program, students live on campus, take classes for college credit and gain valuable familiarity with the school.
As an experiment, Diversity Programs staff organized students from last summer's SIMES program into cohorts. The groups met on a volunteer basis during the fall semester for workshops, special presentations and socializing. At the end of the first semester, more than half of the students had GPAs above a 3.0 and all remained in the program...a good result, according to Peralta.
Unique Populations, Unique Programs
The Diversity Programs staff makes special recruiting and retention efforts for certain populations. For instance, they are working with the New Mexico Tribal Higher Education Commission to develop outreach programs for Native Americans. "We're working with the communities and the Commission to establish what we think is best for the students and determine how we can go after grant money to provide services to these students," says Peralta.
The first goal is to establish a five-year program that would provide enriched education for high school students in tribes around New Mexico. The first tribe to participate is Zuni Pueblo, two hours west of Albuquerque. The proposal includes upgrading Zuni High School's technology and adding more advanced placement classes for students. Once the program is in place at Zuni Pueblo, Peralta plans to roll out similar efforts to one new tribe each year.
Organized Opportunity
Three very active student organizations function as extensions of Diversity Programs and provide additional professional development opportunities, service projects and social outlets. About 30 percent of minority students join either AISES, the National Society of Black Engineers (NSBE), or the Hispanic Engineering & Science Organization (HESO). Benito Martinez III, a fifth year chemical engineering student and president of HESO, says that being a part of the student organization has enhanced his education. "It has opened many doors and helped me develop leadership skills. HESO has also provided me the opportunity to learn beyond academics and taught me about myself," says Martinez.
National conferences held by engineering societies offer valuable exposure to students and the SOE. Last year, more than 100 students attended conferences around the country where they received scholarships, made presentations, participated in competitions and met potential employers.
Peralta and his staff use the conferences to network with other schools and corporations, and to recruit students into UNM's graduate program. "These conferences not only provide terrific professional development opportunities for students, but they also heighten UNM's presence," says Peralta.
That networking has paid off. Diversity Programs collaborates with more than 20 companies including Intel and the Ford Foundation. The longest-term relationship has been with NASA. "We've had a good relationship with NASA. They've been very valuable partners to us for years - funding a lot of our scholarships, creating mentoring programs and then recruiting many of our students," comments Peralta.

Educational support, career guidance and volunteer opportunities are all available through Diversity Programs, but for many students, the most valuable benefit is the most intangible. Pedro Ramos, a junior in mechanical engineering, SIMES participant and NASA Training Project Scholarship recipient, sums it up by saying, "The biggest benefit to being involved with Diversity Programs is the sense of family you get....The staff is very concerned about our success and they go out of their way to help us achieve our goals."
Getting WISE
Program increases women's involvement in technical fields

Almost 2000 women are enrolled in the University of New Mexico s engineering, science and math programs. As a percentage of total students, that number puts UNM in the middle nationally for female enrollment in engineering and science majors. Elaine Borrelli, director of engineering student programs, and her staff work to increase women's interest and involvement in science careers through the Women in Science and Engineering Program (WISE).
"Women have historically been underrepresented in technical careers. In fact, they represent about 20 percent of the workforce in these fields. Our objective with WISE is to get more young women involved in technology," says Borrelli, who is also director of WISE.
The campus-wide program is designed to attract and retain women in science, engineering and mathematics majors. While WISE started as an initiative for women, men are also invited to participate. Through the program, undergraduate and graduate students can access career development services that include job shadowing, mentoring and workshops, as well as opportunities to volunteer and socialize.