Going, Going, Gone
Academic excellence and athleticism team up for mechanical engineering senior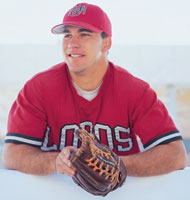 When Sean Murray graduated at the top of his class from Albuquerque Academy in 2000, he knew he wanted to go on to combine his math and science skills with his interest in communication. He said he had heard good things about the UNM School of Engineering. So he chose the field of mechanical engineering because he thought it was the most interdisciplinary of all engineering fields, combining aspects of civil and electrical engineering.
Four years later, as Murray nears graduation, he thinks about combining his knowledge of engineering with law, government or business. Murray has applied for and received the competitive, prestigious Truman scholarship, which will fund graduate school and allow him to pursue a masters in engineering and public policy simultaneously. The award came to Murray as a surprise this spring, when UNM President Louis Caldera appeared in one of Murray's classes to announce the scholarship.
But the 22-year-old is also drawn to his other love in life - baseball. Murray is right fielder and co-captain of the UNM Lobo baseball team. Last season he led the team in hitting with a commanding .383 batting average. He created a mentorship program on the team, where an experienced player will adopt a freshman to help him through the first season. Murray and a teammate have also put together a baseball camp for low-income Albuquerque children, where Little League registration and equipment are already covered, creating a gateway to the sport for children who may not be able to afford it.
When the 2004 baseball season began in February, Murray was covering the bases academically, maintaining a 4.27 GPA while working on his honors thesis. Tariq Khraishi, assistant professor of mechanical engineering and one of his instructors, said that Murray's organizational skills are excellent. "He probably has the best time management skills of any student I've seen. His commitment to playing Division I baseball doesn't keep him from getting an A+ consistently." Khraishi says that Murray has the highest GPA of any of his students. "In engineering, that is pretty tough to get," he said.
Murray says he has never had the self-discipline that he is experiencing in his senior year. "Academics has been my focus, but baseball is right behind," he said. "In these four years here, I've been able to get as much out of the University as I can." In addition to extensive time allocated for classes and studying, Murray logs 25 to 30 hours a week on the baseball diamond.
In the mechanical engineering department, Murray has been creating a model to study atom movement in metallic crystals. Murray meticulously stacked one-inch pieces of drinking straws to replicate the arrangement of atoms in aluminum. The model demonstrates how atoms respond when force or loads are applied on a scale of nanometers, or a trillionth of a meter. The study demonstrates that atoms respond differently on a nanoscale.
Last summer, Murray traveled to Washington D.C. to participate in the Washington Internships for Students of Engineering program. He and 12 other students were required to choose an engineering topic pertinent to public policy. Murray was interested in energy policy, but his advisor told him that field was too broad. He suggested looking into hydrogen fuel cell vehicles - a hot topic.
So Murray set out to study what later became the subject of his UNM senior honors thesis: how policies that will determine how hydrogen is produced a century from now need to go into effect immediately. He wrote that hydrogen could be produced from natural gas early on to make vehicles as inexpensively as possible, in order for them to be mass-produced. Murray stated that when natural gas is no longer abundant, hydrogen would need to be produced from nuclear energy or renewable energy - sources that do not depend on something carbon-based.
"I don't think hydrogen fuel cell vehicles are practical yet," Murray said. "But the reason that I became interested is that hydrogen divisions are popping up in oil companies and auto companies. They want to appear more environmentally friendly. I think they realize that in the future there could be some real investment opportunities."
Murray said the creative process has always intrigued him. He sees creativity as a vital component to mechanical engineering. "Even though engineering is a rigid science, it's actually one of the most creative things you can do," he said.
"Creativity is at the heart of design." He adds, "I can eventually build something that is functional that originated as a thought. But through engineering knowledge, practice and design, it becomes a reality."
Murray credits the enthusiasm of mechanical engineering faculty Ron Lumia, John Russell and Randy Truman for grabbing his attention and increasing his interest in the field. "When I started in the program, I thought the faculty might be involved with important research, and not as concerned with teaching. I found that to be completely untrue," he said.
Lobo baseball coach Rich Alday says Murray is an outstanding leader and that when he speaks everybody listens. Alday would like to see Murray go on to play professionally, but knows he has other goals. "He's had four wonderful years playing collegiate baseball. And if it doesn't work out, I know he's going to be very successful with what he's doing in the engineering program," he said.
Murray's instructor Khraishi, a native of Jordan, has never seen a baseball game and knows little about the sport. Through his relationship with Murray, he has become intrigued and said that once Murray explains the sport to him, he and his wife plan to take in a game.
Khraishi considers Murray to be one-of-a-kind. "I've been at so many higher education institutions," he said. "I've never seen a student that sharp and professional and dedicated; all the good things together in one package."
Sean Murray has been named a 2004 Truman Scholar, the sixth UNM student to receive this national scholarship since 1998. He was elected by 20 independent selection panels on the basis of leadership potential, intellectual ability and likelihood of "making a difference." The $26,000 award will allow Murray to attend graduate school in preparation for a career in government or public service.