A History of Leadership
The School of Engineering has a rich history of distinguished faculty, administrators, and graduates who have contributed to the school's success. Here are four individuals who were particularly important in shaping the future of the School through their leadership, talent, and dedication.
Charles Lembke
Charles Lembke is one of the SOE's most famous and most successful graduates. So it's fitting that he was born in Albuquerque in 1889, the same year that the University of New Mexico came into being. Lembke's life would be intertwined with UNM for the next century.
In 1912, Lembke became the first person to earn a BS from the Department of Civil Engineering. A natural leader, Lembke was president of his 1912 class and participated in almost every athletic, dramatic, choral, and social activity on campus.
Lembke fought in World War I and received several decorations for valor. After the war, he joined his father, Edward E. Lembke, in the Lembke Construction Company, which became the largest home-grown construction firm in the state. The company built 17 UNM campus structures, including Popejoy Hall, Johnson Gym, and the original Zimmerman Library, as well as many Albuquerque landmarks.
Over the years, Lembke remained active with the University and the community, serving as UNM regent from 1923-1927, mayor of Albuquerque from 1935-39, and working on the Albuquerque City Commission for 12 years. In 1989 he was named to UNM's Athletic Hall of Honor.
Lembke's special relationship with UNM extended until his final days; his last social event was a UNM Centennial dinner the evening before he died. This extraordinarily accomplished SOE graduate was 100 years old.
Bill C. Wagner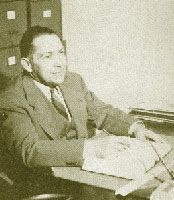 Department chair, professor, leader, pioneer, Lobo fan - Bill C. Wagner was a colorful and influential member of the UNM community for 33 years. Wagner joined the civil engineering faculty in 1929 and taught courses ranging from municipal design to soil mechanics. With his warmth and genuine concern for students, he not only inspired students, but made it possible for many to attend UNM by hiring them to work for him in the materials lab. Wagner was a pioneer in materials research, became a national authority, and helped advance UNM to a position of leadership in materials research. During his early years, he planned most of the University's present street system. He also helped establish the New Mexico Society for Professional Engineers and went on to become the organization's national director.
Appointed chairman of the Department of Civil Engineering in 1943, Wagner served in the position for 17 years. An avid Lobo fan, he also served as president of the intercollegiate conference and chairman of the University Athletic Council. Wagner retired from UNM as professor emeritus of civil engineering and in 1969, the civil engineering building was re-named Wagner Hall in honor of his work as an educator and leader.
Marshall E. Farris
Marshall E. "Mike" Farris, originally from Missouri, earned his bachelor degree in mechanical engineering in 1922 from Purdue University and his master's degree in the same field from the University of Texas three years later. By the time he came to UNM, Farris had years of teaching and administrative experience from working at three other universities.
UNM was operating on a tight budget when Farris arrived in 1931, so he served as Chair of the Department of Mechanical Engineering and Dean of Engineering. Recalling the early days of his tenure, Farris said, "We started from the floor up. Faculty and students had to do all sorts of things. We all built our own shops; if there was anything to install, we installed it."
Farris oversaw big changes at the School, including the design and construction of new facilities and national accreditation. Recognizing that many students were enrolled in a pilot training program in 1940, Farris recommended that the University start a school of aviation; his plan was approved by the regents and grew into an important wartime program. During WWII, he was appointed head of the naval aviation training program for many of the western states.
Farris served as ME department chair until 1942 and as dean until 1960. He went on direct the Sandia Technical Development Program before retiring in 1963. Labs and White Sands Proving Grounds. The building housing the Computer Science and Chemical and Nuclear Engineering departments bears his name.
Ralph W. Tapy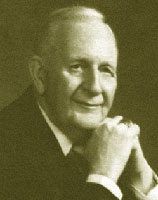 It didn't take long for Ralph W. Tapy to make an impact on the UNM campus. He arrived in 1939 as head of the electrical engineering department and quickly made improvements that helped the department earn full accreditation from the Engineering Council for Professional Advancement. Tapy had set a precedent of change and leadership that would continue during his long tenure at UNM.
He came to UNM with a strong academic background in electrical engineering; an undergraduate degree from Rose Polytechnic Institute and a master's in engineering from the University of Michigan. He would later receive a doctorate in the field. Tapy was a driving force behind the growth of the UNM branch of the American Institute of Electrical Engineers (AIEE), a student organization that sponsored scholarly events, professional programs, and many highly-publicized social events.
In 1943, Tapy oversaw the establishment of the Navy College Program, a wartime training effort that prepared military engineers for service in World War II. Under his leadership, the EE program expanded to include a master's degree and the department awarded its first BS degree to a woman, Pid Urquhart. In 1954, the department moved from the confines of Hadley Hall into a new electrical engineering building - Tapy Hall.
Tapy left the electrical engineering department chairman post in 1955, leaving a tremendous legacy and setting the department on a strong path toward the future.