Interdisciplinary Film and Digital Media Program
Interdisciplinary Film and Digital Media Program (IFDM)

Box office blockbusters and some of television's most popular shows are filmed in New Mexico, resulting in the Land of Enchantment being dubbed "Tamalewood." The state's aggressive business incentives and unique locations are central to the industry's success here, as is the growing pool of local technical talent.
By launching the Interdisciplinary Film and Digital Media (IFDM) Program in 2008, UNM took an active role in developing that talent pool. The undergraduate program is offered by the SOE, the College of Fine Arts, and the College of Arts and Sciences.
Now in its third year, the IFDM offers core classes and electives that provide the critical, creative, and technical skills students need to apply digital technologies in innovative ways. Students can customize their coursework to match their interests, whether they're focused on the creative or business side of film industry.
The IFDM isn't just for aspiring filmmakers. Students interested in graphics, scientific visualization, animation, gaming, and interactive media can also take a range of courses offered by the Advanced Graphics Lab (AGL), which has a game development program now ranked in the top 50 nationally.

"Digital media is all about the synergy between arts and engineering," says Pradeep Sen, one of the lead faculty of the Advanced Graphics Lab and an assistant professor in Electrical and Computer Engineering. "Engineering students who want to be successful in this field must not only know the technical aspects of the field, they must also have an understanding for artistic subjects such as photography, composition, and drawing, Likewise, students in fine arts must know how to program and work their way around computer code. Programs like the one we have at UNM bring artists and engineers together so they can get this kind of exposure while still in school."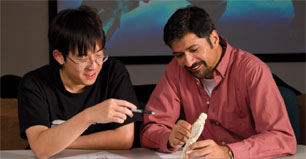 Andrew Yang and Pradeep Sen in the Advanced Graphics Lab, the principal research center at UNM for computer graphics, image processing, visualization, and related fields in digital media.