Hands-On Engineering Experiences
The School of Engineering is engaged in a variety of programs to encourage interest and participation in science, technology, engineering, and math. These activities are designed for students ranging from the very youngest learners to those preparing to enter college.
QESST Freshmen Engineering Research Experience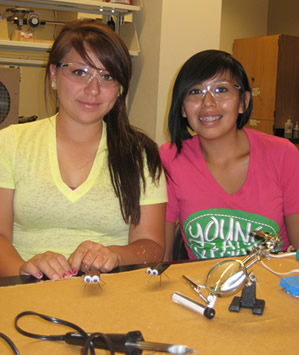 Twelve incoming freshmen majoring in Science, Technology, Engineering and Mathematics (STEM) fields participated in a weeklong QESST experience at UNM. The Quantum Energy and Sustainable Solar Technologies (QESST) Engineering Research Center (ERC) is one of four ERCs at UNM. 
During the QESST experience, students designed, built and soldered photovoltaic panels, solar cars and solar bugs and heard presentations from the New Mexico Solar Energy Association. They toured the solar array, absorption chiller, thermal storage tanks and heat exchangers that help the array heat and cool the Mechanical Engineering building.  They also learned college survival tips and strengthened their math skills.
Students came from local high schools as well as from Pojoaque Valley High School, Laguana-Acoma High School and Arvada High School in Arvada, Colorado. 
Contact
For more information, contact Stefi Weisburd, Internship Coordinator, at weisburd@unm.edu.
Phone: (505).272-7971 or ( 505) 277-5062.