Special Events
From Mole Day and Engineering Week at the National Museum for Nuclear Science and History to the New Mexico State Fair, School of Engineering faculty, staff and students bring hands-on engineering to New Mexican children and their families.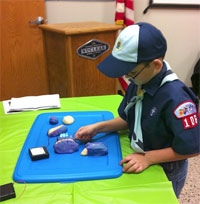 This boy is lighting LEDs with "squishy circuits" made of conductive play dough.
UNM Engineering outreach partners include:
National Museum of Nuclear Science & History
La Mariposa Head Start
South Valley Academy
Hispanic Engineering & Science Organization
National Society of Black Engineers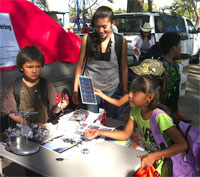 New Mexico State Fair goers play with solar bugs, fans and other devices during Science and Technology Day.