School of Engineering Professor Receives 2010 New Mexico Earth Science Achievement Award
February 11, 2010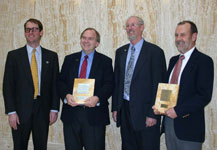 Regents Professor of Civil Engineering and Director of the Water Resources Program Bruce Thomson has received a 2010 New Mexico Earth Science Achievement Award. Thomson's research is focused on the chemistry and treatment of inorganic contaminants in ground water, especially arsenic and uranium. Recent research projects have dealt with issues associated with the reuse of treated waste water.
Presentation of the 2010 Earth Science Achievement Award: (from left to right) Jon Goldstein, award recipient, EMNRD Cabinet Secretary; Dr. Gary King, award recipient, Attorney General; Dr. Peter Scholl, award recipient, NMBGMR State Geologist; and award recipient Dr. Bruce Thomson, UNM Water Resources Program Director and Regents Professor.
Thomson has served on several local, state, and national committees dealing with water issues, including 10 years of service on the Water Quality Protection Advisory Board, which reports to the City of Albuquerque, Bernalillo County and the Albuquerque Bernalillo County Water Utility Authority.
The award is sponsored by the New Mexico Bureau of Geology and Mineral Resources, a non-regulatory research and science division of the New Mexico Institute of Mining and Technology in Socorro and the Energy, Minerals and Natural Resources Department in Santa Fe. The awards were initiated in 2003 to honor those often unrecognized champions of earth science issues vital to the future of New Mexico.