Landscaping Between Engineering Buildings Designed to Inspire
March 24, 2010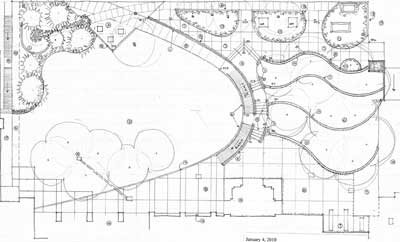 Map & legend
(PDF)
Construction on the landscape between the Electrical and Computer Engineering building and the Centennial Engineering Center began on March 15 and is scheduled for completion in late July. See below for temporary changes to the ADA routes. 
UNM adjunct professor and Landscape Architect William S. Perkins, ASLA designed the landscape plan with a common space for the school community. Perkins says, "Hopefully it will be a place where members of the university community, and members of the engineering school in particular, can come together to relax or to reflect for a moment before or after an engaging lecture or a tough exam."
A parabolic curve organizes the site and links the doorways of different parts of the field of engineering. A series of ramps and landings leads from the upper level along the Electrical and Computer Engineering Building down to the east entry of the new Centennial Engineering Center (CEC).  The ramp system is joined by steps dividing the two sides of the commons. To the north, grass slopes gently down toward the breezeway and links CEC's courtyard with a grove of deciduous trees. To the south, a simple landscape features terrace seat walls and tall trees forming a green shade canopy. 
Perkins says he designs so that the forces germane to a site and those germane to the community of people who will use the site are integrated in a balanced manner and do justice to their inherent tensions and potential harmony. 
ADA Accessible Routes
Between March 15 and March 29, the ramp accessing the CEC (from the NE corner of the CEC) will be torn out and re-built. As a result, the ADA-accessible routes to the CEC, Farris Engineering Center and the Mechanical Engineering (ME) building will change for those two weeks. Attached is a map of the accessible routes for CEC, Farris and ME during that time period. The ramp to the CEC from the ECE building will be improved and in operation by March 29th unless there are weather or other unforeseen construction delays. See PDF for ADA accessible routes.