New Mexico Innovators Join Forces on Fulldome Research
March 12, 2010

"The most common experience many people have with "fulldome immersive environments" is with planetariums such as the LodeStar planetarium at the New Mexico Museum of Natural History and Science. In today's digital age, however, it's not surprising that the technology used in producing such immersive environments is evolving quickly and that New Mexico is playing an important role. A new, statewide research partnership called "PFI: Consortium for Fulldome and Immersive Technology Development" received $597,220 in funding March 1 from the National Science Foundation's (NSF's) Partnerships for Innovation program.
PFI grants promote innovation by bringing together colleges and universities, state and local governments, private-sector firms, and nonprofit organizations. PFI helps these organizations form partnerships that support innovation in their communities by developing the people, tools, and infrastructure needed to put new scientific discoveries to practical uses.
The new consortium will develop the hardware and software that will make it possible to use fulldomes as interactive, multisurface environments that help people visualize, simulate, or experientially comprehend a wide range of information, from educational and artistic material to evaluating scientific data and complex systems.
Two of UNM's most creative labs are cornerstones of the consortium – the Advanced Graphics Lab in the Electrical & Computer Engineering Department of the School of Engineering and the multidisciplinary ARTS Lab.
The other two cornerstones are based in Santa Fe: the Santa Fe Complex and the Institute of American Indian Arts.
The project leader is Pradeep Sen, Assistant Professor in the Electrical & Computer Engineering Department (ECE@UNM). He holds a joint appointment with the school's Computer Science (CS) Department and is co-founder and director of UNM's Advanced Graphics Lab (AGL).
"One of the key challenges with trying to grow a sustainable industry is to develop a critical mass of interested people," Sen said. "With the partnership we have formed between the Santa Fe Complex, IAIA, the ARTS Lab, and the Advanced Graphics Lab, we now have the critical mass to move forward. We are very excited to see what we can accomplish together."
New Mexico Brain Trust
"We have assembled a diverse team for this project," Sen said. "For example, David Beining, the associate director of Immersive Media at UNM's ARTS Lab, has been working on and promoting dome technology for years. We would not have gotten this grant without people like him leading the way with these exciting technologies."
Sen's partners on the project are Beining, ARTS Lab founding director and CS Emeritus Professor Ed Angel, and IAIA Dean Ann Filemyr. Other senior contributors include ECE@UNM Professor Tom Caudell, Santa Fe Complex researchers Stephen Guerin and Steve Smith, CS Assistant Professor and AGL co-founder Joe Kniss, School of Engineering Interim Dean Arup Maji, and IAIA Chair of New Media Arts Carlos Peinado. Additional partners include the Institute for the Study and Integration of Graphical Heritage Techniques (INSIGHT) and Sky-Skan Inc., manufacturer of the world's first true fulldome digital video system and of the ARTS Lab's fulldome.
The team from UNM's Advanced Graphics Lab will focus on the technical aspects of the project and will work closely with researchers at the Santa Fe Complex, particularly Stephen Guerin and Steve Smith, to contribute to innovations in immersive technologies.
The Advanced Graphics Lab is the research laboratory at UNM that focuses on cutting-edge work in the technical aspects of computer graphics and digital media. The video-game development program that Sen started through AGL is ranked by Princeton Review as one of the top 50 video-game development programs in the country.
The Santa Fe Complex provides a collaborative workspace that fosters applied complexity science through interdisciplinary education, outreach, and development of innovative technologies to address real-world problems, enable social cooperation, and create economic opportunities.
"SF Complex is an open community project incubator applying complexity research in the intersection of science, technology and art," said Stephen Guerin, who serves on the Complex's board of directors and is president of the Santa Fe-based Redfish Group. "We're excited to work with our colleagues at UNM and IAIA to explore new applications in interactive dome projection and ambient computing that will help realize 'AnySurface' applications where whole rooms become interactive."
The project team aims to innovate and develop fulldome projection technology scaled and priced in a way that makes it accessible to everyday users. The new technology is expected to drive innovation and foster growth of the digital media industry in New Mexico, including the state's burgeoning film industry.
Making Immersion Accessible 
"Domes are naturally an immersive medium," Sen said. "Your entire field of view is covered by the computer-generated imagery. We propose to explore new ways to produce dome content efficiently as well as study how a team would use the dome to interact collaboratively with data."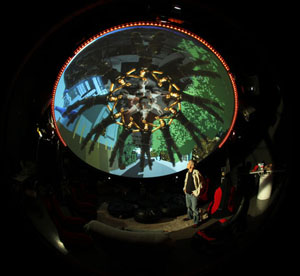 "Part of the Fulldome and Immersive Technology project will focus on developing novel technologies that make immersive environments possible without having to construct dome structures. The researchers believe that this will not only make immersive environments helpful in understanding complex scientific data, but will also lead to more commercialization opportunities for the technology.
"Not everyone has a fulldome at home," Sen said. "The way to make these technologies more accessible is to develop ways to turn any ordinary environment, say the corner of a room, into an immersive projection environment. Once everyone can get an immersive environment in their home, immersive content will naturally follow."
The project rests partly on the foundation already laid down by the ARTS Lab in putting together fulldome environments both at the LodeStar digital planetarium in the Natural History museum and at the ARTS Lab itself.
UNM had a previous PFI grant, "The Digital Pueblo Project," for which Ed Angel served as principal investigator. The project initiated efforts to build upon the scientific, artistic and cultural resources of New Mexico to create a sustainable distributed media industry. This project was the beginning of the collaboration on expanding fulldome technology under leadership of David Beining, who was then director of the LodeStar Astronomy Center. The Digital Pueblo project was a major factor in establishing the ARTS Lab, with seed funding from the Governor's Media Education Fund, and it led to collaboration with the Santa Fe Complex, which was seeded by the City of Santa Fe, and with IAIA and its New Media program. Angel currently chairs the Santa Fe Complex board of directors.
"These immersive environments create powerful science communications for both public education and scientific research," said Beining. "In the Fulldome and Immersive Technology project, we intend to create both tools and professionals that can evolve into economically beneficial businesses as well as educationally supportive programs."
Research at the Santa Fe Complex will be centered on extending dome technology to ambient computing, an environment that includes projections on arbitrary surfaces such as the interior of rooms. Multiple cameras and projectors would allow the environment to react to users without the aid of devices such as computer mice or headsets.
Sen plans to start the AGL's portion of the work by creating a flexible software framework that will help programmers develop dome and immersive software. The framework will act as a middle layer between the developer's application and the display software to give the programmer flexibility in creating new uses for immersive environments.
"In traditional computers, developers use platforms such as OpenGL or DirectX to decouple their code from the display," Sen said. "We need to do something similar for projection domes, where the software infrastructure will automatically adjust based on the configuration of the environment."
Expanding Workforce Skills 
The project will help develop an educated workforce for a new high-tech industry in New Mexico, and both UNM and the Institute of American Indian Arts will have a key role in this area.
UNM classes taught through the ARTS Lab will use dome technologies for student projects. In Santa Fe, students at IAIA will gain hands-on experience by working with a multi-surface immersive environment that will be set up on their campus using UNM fulldome expertise and funds from the PFI grant.
"With the new dome facility at the Institute of American Indian Arts," said IAIA Academic Dean Ann Filemyr, "we are hoping to extend our reach in serving Native communities with cutting-edge technology for educational purposes ranging from indigenous astronomy to new ways to share traditional stories."
IAIA's mission is to empower creativity and leadership in Native arts and cultures through higher education, lifelong learning and outreach. The IAIA installation will also broaden the range of spaces in which fulldome technology is currently being applied. In this case, the uses of the fulldome will include educating students in STEM-related areas: science, technology, engineering and math.
"The Institute of American Indian Arts, through its New Media Arts Department, is taking bold steps to ensure that our students have access to leading technologies in order to empower themselves as future storytellers," said IAIA New Media Arts Chair Carlos Peinado. "Our partnership with the University of New Mexico, the Santa Fe Complex and other PFI stakeholders will allow our students access to project-based materials that will investigate the creation and application of immersive media, a subject that holds interesting possibilities for a myriad of challenges facing Indian Country."
"This PFI grant recognizes New Mexico's unique technological, cultural and artistic resources," said consortium co-leader Ed Angel. "It also recognizes New Mexico's leadership in an area of enormous potential for a sustainable industry, and the commitment of multiple institutions and government to the success of the project."
For more information visit: Fact Sheet.