Chemical Engineering Student's Team Wins Technology Business Plan Competition
April 22, 2010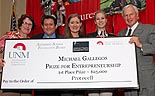 The University of New Mexico Technology Business Plan Competition was held recently and Chemical Engineering graduate student Carlee Ashley's team, Protocell LLC, won first place in the the 5th annual event and a $25,000 first prize.
Photo: Provost Suzanne Ortega (left) and Anderson School Dean Douglas Brown (far right) award the Michael Gallegos Prize for Entrepreneurship to James Massengale, Carlee Ashley, and Lindsey Wesenberg of Protocell, LLC.
The goal of Protocell, LLC and team members Carlee Ashley (Ph.D., Engineering), James Massengale (MBA) and Lindsey Wesenberg (MBA), is to take the newly invented protocell technology through Phase I clinical trials for the treatment of cancer. Due to its stability, specificity, and cargo capacity, this nanoparticle, when coupled with a drug or therapeutic agent, is one million times more effective than current delivery methods available for the treatment of cancer. 
Protocell, LLC will assist in moving this technology forward through the FDA approval process for the treatment of liver cancer, pediatric leukemia, ovarian cancer, pancreatic cancer, and ultimately for any arbitrary cancer.
The TVC Lockheed Martin Prize amd $10,000 went to second place Southwest Bio-Recycling including team members Olena Dziuba (BBA) and Khoi Le (MBA). The entity provides collection, filtration, and transportation of waste vegetable oil for blending of clean bio-diesel, reducing the environmental impact of restaurant food production and reducing dependency on imported energy by recycling waste into renewable energy.
The City of Albuquerque prize and $5,000 went to third place finishers Mimic Tracking Systems. Team members include Adam Heying (MBA), Whitney Sanzero (MBA) and John Soladay (MBA). Mimic Tracking Systems seeks to address the needs of high communication and situational awareness for first responders by providing the Umbra, a hand-held, real-time, secure tracking and communications device.