UNM Team Prepares for Formula SAE Race Car Competition
May 28, 2010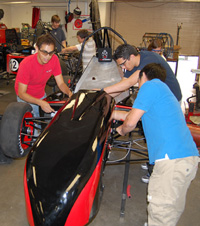 UNM School of Engineering students are in the final stages of testing and driver training for the 2010 Formula SAE® Competition. For three semesters, the team has worked on designing, testing, and building a sleek, aerodynamic, high-performance race car that weighs 455 pounds, 50 pounds lighter than last year's car.
Then from June 16-19 in Fontana, CA, the team will put the pedal to the metal in the Formula SAE®, a competition encompassing all aspects of the automotive industry, including research, design, manufacturing, testing, developing, marketing, management and finances. "FSAE offers real world engineering and hands-on experience," says Chuan Banh, 2010 FSAE Team Project Manager. "Last year, Honda hired four students from New Mexico; three of them were from the UNM FSAE team."
Nationally, UNM's program is one of two offering specific FSAE participation for academic credit. "Although we have gotten better every year, so does the competition," said Mechanical Engineering Professor John Russell, instructor for the three-semester course. "Our prospects are very good this year. We have enhanced our reliability and drivability using a non-shifting continuously-variable-transmission."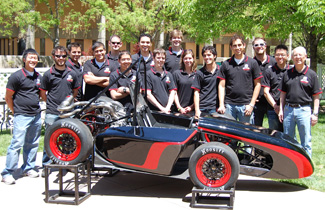 This year's team used sophisticated 3D software in the industry to design a car with peak efficiency, improved fuel efficiency and better acceleration.  "Using a computational flow dynamics program, the aero package was designed with two goals: generate as much down-force as possible and decrease the overall drag forces on the vehicle," said Fernando Hernandez, head of the aerodynamics team. "Designing the entire package around the undertray, we were able to achieve significant results at the speeds we operate, while keeping the overall weight relatively low with the use of carbon fiber composites. By doing so we were able to setup a foundation for future teams to build upon." 
Over the next two weeks, the team will make sure the car can handle the endurance test of the competition; 11 laps with one driver and another 11 laps with a different driver. "If you can pass endurance at the competition, you're in the top 20-25 teams," said Banh. 
The UNM team depends on private and public sponsorship for funding to engineer and build the car as well as to participate in the competition. For more information about the UNM racecar or to donate to the program, go to https://sites.google.com/a/unm.edu/fsae/