ARTS Lab Stretches Boundaries of Digital Media
September 20, 2010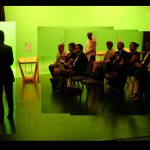 Like a blank sheet of paper, digital media is as meaningful as the content that fills it. Though commonly associated with special effects, animation and game design – all areas of study available at UNM – digital media has many potential applications.
One is Tim Castillo's work on the Virtual Embudo Project, which he classes as "cultural media." The project uses digital media to map the Embudo watershed and archive "shared cultural knowledge that can aid in the community design, budgeting and decision making processes," according to the project Web site. Put more simply, the project is about "capturing the essence of what New Mexico is," said Castillo, ARTS Lab director and associate professor, architecture.
UNM approaches digital media as a nexus of divergent yet complimentary fields. That idea is embedded in the very name of ARTS Lab – Art, Research, Technology and Science Laboratory. Castillo said the interdisciplinary focus is how UNM can be a leader in digital media. "It's unique. You don't see that in many digital labs across the country," he said.
In the introductory course for the Interdisciplinary Film & Digital Media Program, Castillo tells students to expect exponential changes in digital media. "It's such a moving target," he said. "We have to keep ahead of trends, look to future."
Access to developing technologies is essential to that goal. At the heart of ARTS Lab is the Digital Media Garage, which opened in 2005 with an experimental dome and a black box with a full-corner green screen, motion-capture system and advanced lighting system. The facilities are "targeted at research, but also helping students to start to get acquainted with the kind of technologies used in the media industry," Castillo said.
The Digital Media Garage also serves as a community space. From the beginning, ARTS Lab cultivated connections between artists, designers, researchers, businesses and others working in digital media and related industries through conferences, events and social media.
In a musical series called The Roost, local artists take advantage of the "acoustically amazing space" of the black box, Castillo said. The program continues Mondays at 7:30 p.m. through the end of September.
"We really try to encourage those kind of community organizations to come in and be part of what we see as a way of connecting people," he said.
Castillo said the original concept behind ARTS Lab was "to cultivate research and academic initiatives within UNM." While continuing to support community programs, he wants to focus on building the research side of ARTS Lab. "The academic side has mostly been done instructor by instructor," he said.
ARTS Lab received a grant to connect dome projection with applications in three areas: math and physics, gaming, and art. The goal of the Partnership for Innovation grant is "to create an industry for domes," said Joe Kniss, assistant professor, computer science.
ARTS Lab has helped nurture a growing international movement to expand use of the dome beyond the traditional planetarium show. The medium is also called "immersive" because it can make viewers feel as if they are inside the image. Castillo will teach an immersive media class in the spring.
Creating interactive games or programs for the dome "forces you to think differently," Castillo said. Compared with flat screens, the immersive quality of domes makes "gaming more environmental," he said.
To display the power of that effect, Kniss demonstrated how to play a deceptively simple game. The objective: To pop bubbles. A remote controls up/down rotation and the player controls left/right and in/out movement by standing on a small board and shifting weight. The disorientation of moving in three dimensions – much more palpable than flying in Second Life, even on the relatively small experimental dome – felt the way I imagine training for zero gravity might.
Kniss said they're also working on creating an inflatable, portable dome.
ARTS Lab co-produced "Tales of the Maya Skies," now showing at the New Mexico Museum of Natural History and Science, nmnaturalhistory.org, and on domes worldwide. "Tales of the Maya Skies" immerses viewers in ancient Maya civilization's science, culture and legend.