First Raymond E. Plotkin Scholarship Awarded
September 27, 2010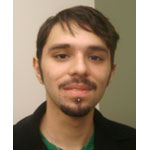 Last year University of New Mexico freshman Raymond Plotkin was doing well in school, making friends and having fun when he died suddenly from the H1N1 flu. The family honored their son's memory and his love of UNM with an endowment to sponsor scholarships for engineering students. Recently the family awarded the first Raymond E. Plotkin scholarship to Sean Chavez, a 2010 graduate of Albuquerque High School and computer engineering student at UNM.
The Plotkin family selected Chavez from a number of outstanding students, saying, "We feel that Sean is the most appropriate first recipient of the Raymond E. Plotkin Scholarship due to his outgoing personality, motivation and desire to work towards success."  
Chavez said, "I read Raymond's biography and was truly touched by the generosity and kindness he displayed throughout his life. My goal for a long time has been to be very much like Raymond, a kind, generous person who helps others as much as possible."  
Raymond was a native of Houston, Texas, and came to UNM in the fall of 2009 to study nuclear engineering.  During his short time at UNM, he was involved in the Hispanic Engineering Student Organization (HESO), the American Nuclear Engineering Society (ANES) and the Jewish campus organization, Hillel.  A healthy young man, Raymond had been vaccinated against the seasonal flu, but contracted the H1N1 virus and died before those shots became available to the general public.  
Last year, the Plotkin family encouraged everyone to take advantage of the opportunity to be vaccinated against the flu. This year they are doing the same. It's even easier to get protection from the H1N1 virus, as it is included in this year's seasonal flu shot which is readily available at area pharmacies and clinics.  
UNM Health Sciences Center is offering free flu shots for NM Students, Staff and Faculty (anyone 18 years old and older) from 10:00 am -2:00 pm at the SUB Atrium on Thu., Sep. 30, 2010, Wed., Oct. 20, 2010 and Thu., Oct. 28, 2010. UNM Health Sciences Center will offer free flu shots for the public in September and October. Click here for a schedule. 
Donations to the Scholarship Fund
The Raymond E. Plotkin Scholarship is endowed; only the interest on the fund is awarded each year so that the scholarship can be awarded in perpetuity.  Future donations to the fund will be added to the principle and increase the amount awarded each year.  Donations to the fund should be made payable to the UNM Foundation (memo Raymond Plotkin Scholarship) and mailed to Susan Georgia, UNM School of Engineering, MSC01 1140, 1 University of New Mexico, Albuquerque, NM 87131. For further information, please call 277-0664 or email sgeorgia@unm.edu.
Also see the family's letter to the Daily Lobo: "Take One for Raymond" this flu season