ECE Opens Doors for Prospective Students
November 1, 2010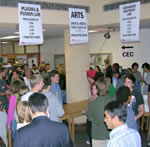 ECE will hold its annual pre-college Open House on Wednesday, November 3, from 4 to 7 p.m. The event is open to pre-college students, their parents, and teachers as well as current college students interested in learning more about the degree programs at UNM's Electrical & Computer Engineering Department.
Information will be provided about scholarship deadlines, the application process, support available to students, job outlooks, and the research areas in ECE@UNM. Visitors will also have a chance to see some of the fascinating research that's going on in labs that are not usually open to the public.
Visitors can drop in at ECE's lobby at 4 p.m. for self-guided lab tours and information. At 6 p.m. there will be a brief, informative presentation and Q&A.
Students who plan to attend should preregister at the event Web site,http://excel.ece.unm.edu/welcome, which also includes information about the event and maps to the ECE building.