Professor John Stormont Selected as Chair of UNM Civil Engineering Department
November 18, 2010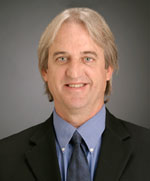 Professor John Stormont has been selected as Chair of the Civil Engineering Department at UNM after having served as interim chair for the past 17 months. He brings 16 years of experience at UNM, 12 years at Sandia National Labs, and is an enthusiastic teacher and active researcher.
"Professor Stormont has accomplished important objectives as Interim Chair, including engaging the department in developing a strategic plan and preparing the department for accreditation reviews," said UNM School of Engineering Interim Dean Arup Maji. "I am confident that he will now be able to focus more on the strategic goals of the department, along with hiring new faculty."
Stormont's research interests are related to geo-environmental issues associated with mining operations and landfills, unsaturated hydrology, and geomechanics.  He has brought in more than $3.2 million of externally funded research and has been principal advisor to 19 Masters and 4 PhD students.  He is a registered professional engineer in New Mexico and received his PhD from the University of Arizona in 1990.