Mechanical Engineering Students Build FSAE Race Car, Mentor Middle School Students
Mechanical Engineering Students Build FSAE Race Car, Mentor Middle School Students
March 22, 2011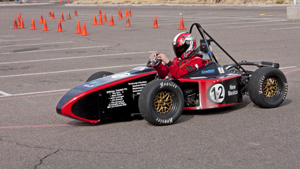 Sometimes the best times in life are sharing an interest.  Each year students in the UNM Mechanical Engineering Department design and build a FSAE race car.  Each summer they race it against other universities.  The technical skills the students learn as they design the car and troubleshoot engineering problems are the important things in terms of learning.  The fun they have racing the car is the personal payoff.
This year UNM students are mentoring three 8th graders from Truman Middle School.  The 8th graders have spent time learning design programs and working alongside the 35 member UNM race team as they complete the components they are building for their car.
Deputy project manager Jeremy Sment says, "The students have been enthusiastic about the mentoring program.  They especially liked having something to show for their efforts when they worked in the machine shop."
The middle school students learned how the Computer Assisted Design programs work, and how to use the milling equipment in the department's shop.  They were also there on a windy Saturday morning as members of the university race team did time tryouts in a UNM parking lot to designate drivers for the actual races in California this summer.
video runs:58
The mechanical engineering courses taught by UNM professor John Russell take the students through the technical concepts they must master to design and build the car over three semesters.  The students must do everything from raising money to buy the materials they need to build the car to learning how to work with the carbon composite to build car bodies and components needed for the mechanical systems in the car.  In the competitions points are awarded for car performance and engineering. The payoff for some students is a job.  
Russell says, "We've been successful in preparing students to work in the automotive industry research and design areas.  A number of students have been hired by companies as soon as they graduate."
In 2009 Honda America Research and Development division hired four students from the program.  This year one student will go to the Ford Research and Design Division as soon as she graduates.

Media contact: Karen Wentworth (505) 277‑5627; e-mail: kwent2@unm.edu