Abdallah Appointed Interim Provost at UNM
May 23, 2011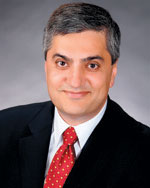 University of New Mexico President David J. Schmidly today announced the appointment of engineering professor Chaouki T. Abdallah as interim provost and executive vice president of academic affairs for a one-year term beginning July 1, 2011.
"Professor Abdallah will bring exciting new perspectives and energy to the provost's position, as well as expertise gained during his long tenure of work at UNM," said Schmidly. "He earned strong recommendations from every constituency on campus – faculty, students and staff. I look forward to our working together on the university's goals during the coming year."
"President Schmidly made an outstanding choice in selecting Dr. Chaouki Abdallah as our interim provost," said Professor Rich Wood, chair of the Provost's Search Committee. "Abdallah will provide vision, leadership and a new beginning as UNM continues to build our mission as a research university."
In his candidate statement, Abdallah discussed his view of the provost's role saying, "Our University's state will oscillate between highs and lows and the provost's job is to lift the lows and take advantage of the highs. I believe in getting the best out of people's strengths and weaknesses and I believe in transparency and confidentiality but not in secrecy.
"I want to know about issues and concerns, before they become real problems. I believe in setting goals and priorities that can be communicated to supervisors, colleagues, staff and students. I believe in an engaged academic community that keeps the administration focused and the outside world informed."
Abdallah is currently professor and chair in the Electrical and Computer Engineering Department, which he joined in 1988. He earned his M.S. and Ph.D in Electrical Engineering from the Georgia Institute of Technology.