KRQE features UNM research balloon launch
July 25, 2012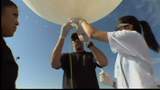 KRQE features UNM research balloon launch
KRQE has featured a senior design project by a team of UNM students supervised by Chris Hall, chair of the Mechanical Engineering Department, and Christos Christodoulou, professor in the Department of Electrical and Computer Engineering. The balloon was launched with a payload of sensors into the ionosphere. See the video on KRQE's website and read the story below: http://www.krqe.com/dpp/news/education/nm-college-students-explore-edge-of-space?ref=scroller&categoryId=10001&status=true
NM college students explore edge of space
Updated: Thursday, 05 Jul 2012, 11:43 AM MDT
Published : Thursday, 05 Jul 2012, 10:11 AM MDT
EDGEWOOD, N.M. (KRQE) - Floating 20 miles above central New Mexico it's a frigid 50 degrees below zero and a near vacuum.
The dense black of deep space is overhead and a glowing narrow band of blue signifies the thin atmosphere hugging the distant curvature of the Earth.
The view of this hostile environment comes from cameras on a small instrument package built by college students and suspended under a weather balloon.
"Not a lot of people get to work in a research facility where working out of the box is acceptable," Jacy Bitsoie said.
Bitsoie is one of the students working this summer at the University of New Mexico's ' COSMIAC ' (Configurable Space Microsystems Innovations & Applications Center).
She is a civil engineering student at UNM and hopes to build roads and bridges someday. But this summer she has teamed up with students from New Mexico and other states studying other engineering disciplines.
All spend hours a week in a lab working on a balloon command module they are designing to repeatedly fly to the edge of space.
Wires, circuit boards, computers, antennas and meters are scattered around their tabletops.
"Just trying to get everything in that tiny little box is the hardest part," Missouri aerospace engineering graduate student Austin Ferguson said. "There have been a lot of issues with our power as well."
The Air Force Research Lab (AFRL) co-sponsors the UNM program and will send its own science instruments up to ride on the student system, when the bugs get worked out.
Problems remain with the tracking system, surviving the extreme cold in the upper atmosphere and other issues. All must be solved by the student engineers.
That takes a lot of time and patience according to New Mexico State University mechanical engineering student Cheryl Chambellan.
"You learn by trial and error," Chambellan said. "You learn that failure does not mean the end and you learn to work with people."
UNM's COSMIAC planned the program to be high-tech, hands on and fun and to ultimately help attract more young people into engineering careers.
At a recent UNM graduation a speaker pointed out that while America will graduate 35,000 engineers this year, China will graduate ten times as many.
"What we're looking for a way to instill, engineering is cool. Engineering is fun," COSMIAC Deputy Director Craig Kief said. "Engineering isn't the Big Bang Theory. It's actually people having fun flying balloons and gliders and doing things like rockets."
Following its fourth launch from a Walmart parking lot in Edgewood, NM, it takes about 90 minutes for the latest UNM balloon flight to be completed.
After landing in north Albuquerque, the command module will fly again in two weeks. 
Next time, students hope to attach a glider for a low-altitude test drop.
Eventually, the glider would take instruments to the edge of space and automatically steer itself back to the launch site.
UNM's COSMIAC also involves engineering students in the design, construction and launching of small satellites.