UNM Engineering Incoming Freshmen Get a Jump Start with Summer Research
July 9, 2012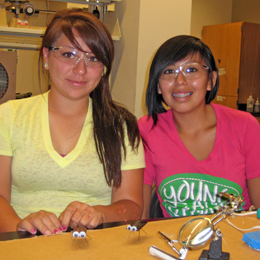 The UNM QESST Engineering Research Center will host a one-week, residential summer research experience from July 8-14 for incoming freshmen interested in engineering and computer science majors.  The students will learn about solar cell technologies, applications and research at UNM's School of Engineering.  They will also be given the opportunity to hone their math and college survival skills.   
(These girls just soldered "solar cockroaches" that shake when they're put in sunlight.)
For more information, contact Stefi Weisburd,
Outreach and Education Manager at the UNM School of Engineering, (505) 272-7971 or (505) 277-5062.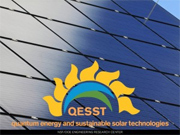 UNM is a key member of the Arizona State University-based Quantum Energy and Sustainable Solar Technologies (QESST) Engineering Research Center supported by the Department of Energy and the National Science Foundation. 
QESST is laying the foundation for significant innovations in solar energy devices and systems to help the nation meet the challenges of harnessing solar power in economically viable and sustainable ways.