UNM Team Wins 10th Overall in International Racing Competition
May 11, 2011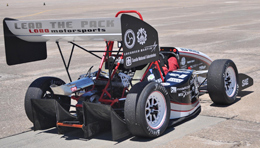 Accelerating to 60mph in 4 seconds and maintaining almost 2g's as it grips 90 degree corners, the agile black, red and white racecar is a blur. When it stops, "Lead the Pack LOBOMotorsports" and sponsor logos, including those of Lockheed Martin/Sandia National Labs and ASUNM, the associated students' organization of UNM, and dozens more, are visible.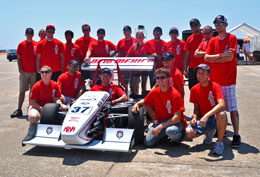 The 2012 racecar took UNM to 10th place overall in the Formula SAE in Lincoln, NE, June 20-23, an international competition organized by the Society of Automotive Engineers. With the premise that a manufacturing firm has requested a prototype car for a nonprofessional weekend autocross racer, the competition encompasses all aspects of an engineering business design team including research, design, manufacturing, testing, developing, marketing, management, and fund raising. Eighty-one teams from Brazil, Canada, India, Japan, Mexico, Puerto Rico, and throughout the US participated in the competition.
LOBOMotorsports Big Wins
The UNM LOBOMotorsports team demonstrated prowess in marketing, design, endurance, and overall performance. The team won: 
5th place in presentation, a test of their ability to develop and deliver a comprehensive business case that would convince the investors that the team's design best meets the target market's needs;
6th place in endurance, a race approximately 22 km (13.66 miles) long with a driver change, designed to evaluate the overall performance of the car and to test the car's durability and reliability;
10th place overall, based on events which include presentation, cost and manufacturability, design and dynamic events of acceleration, skidpad, autocross, endurance and fuel economy.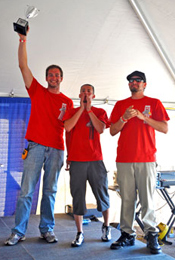 (Photo: Project Manager Garrett Kuehner, Deputy Project Manager Brenton Barton, and System Engineer Devin Plagge and their trophy for 10th place worldwide.)
"I'm very proud of the stellar accomplishments of LOBOMotorSports," says Catalin Roman, dean of the UNM School of Engineering. "The UNM program combines all facets of engineering, hands-on experience, marketing and business planning, and the team proved their excellence against top-notch teams worldwide."
Building on previous successes
UNM is one of a handful of universities to offer the program as a three-semester credited course; other teams may use their senior design course for individual credit but focus the overall activity as a club. The program was started in 1997 by John Russell, professor of mechanical engineering. "This year's team is full of high performers who proved their knowledge in engineering and business," says Russell. "Their wins reflect their excellence as well as the strength of the UNM program, building on successes from previous student achievements over the past 15 years."
A grueling competition
The FSAE competition is a grueling one and the filtering process reveals the key markers. Twenty-five teams did not pass tech inspection, a test to confirm that each car complies with the requirements and restrictions of the FSAE Rules. Nineteen percent didn't complete a car for competition, 17% didn't pass tech inspection, and 38% didn't complete endurance, leaving only 26% who made it through all events.
UNM project manager Garrett Kuehner led the team through 18 months of hard work, late nights, and weekends working on the project. He also coordinated logistics at the competition, juggling multiple projects and tight timelines, and made key decisions. One of those decisions was to ensure that the team was first to set up on the field.
"Devin Plagge and Kyle Kaniho went to the competition site at 1:00AM to secure an early entrance," says Kuehner. "Once the site opened, the team assisted the event volunteers by arranging areas of the site after a large wind storm destroyed the main tent. Our courtesy was rewarded, and we were offered the first opportunity for tech inspection."
Kuehner had personal obstacles to overcome: a motorcycle accident in October, 2011 resulted in two weeks in the hospital, two months in a wheelchair, and three months on and off crutches between surgeries. "Garrett never missed a meeting and met every deadline," says Russell. "He handled the whole project as well as any program manager that ever worked for me in my 27 years in government."
Key factors that set UNM apart
Throughout the project, the team focused on three primary design goals for the car they named the LMS-12: weight reduction, drivability, and reliability. "We dropped 10% of the weight from last year's car; the LMS-12 weighs 495 lbs.," says Kuehner. "It's the fastest vehicle yet from UNM." The team integrated a continuously variable transmission (CVT), allowing drivers to solely focus on driving line and braking points, vastly improving lap times and consistency. The LMS-12 is also the most reliable UNM car to date.
Marketing is 10% of the grade at the competition. "Selling and marketing is huge in industry, and it's important to have an excellent business presentation," says Russell. He arranged for the team's marketing presentation to be critiqued by Dr. Bob Bestgen, a venture capitalist, and Dr Paul Sandoval, a member of the faculty at UNM's Anderson School of Management. Focusing on improving the presentation paid off as the team improved their rankings and took 5th place. "One of the judges said he was 'most impressed' by our team's presentation," reports Russell.
Hands-on engineering
The UNM program teaches hands-on engineering skills and reflects the types of challenges faced by engineers throughout their careers. "There are no problems at the end of the chapter and no answers in the back of the book," says Kirby Anne Witte, project manager for the 2013 team. "We must supply our own questions to fuel the design of many subsystems that flow together to create a vehicle that must not only drive, but also perform and compete."
Luke Yates, part of the 2011 team, says the program emphasizes teamwork, leadership, and decision-making. "I really learned how to work on a team and trust my fellow teammates to make the right choices," he says. "The program strengthened my abilities to work in a team environment, manage my time in order to complete deadlines, present my work in front of an audience, as well as document and compile my work for future students. Overall it was a great experience, and I'm very grateful that UNM offers such an amazing program to help prepare students for industry."
Russell wants to encourage more undergraduates to get involved as volunteers before they take the program for credit so they can get a head start on the learning curve.
Preparing students for careers
The concepts taught during the class, the hands-on experience, and teamwork, leadership, and marketing skills are valuable for the competition and for careers. Many FSAE alums get job offers before graduating from companies such as Ford, GM, Chrysler, Honda, Sandia National Laboratories, Boeing, and more. A large number go on to the best graduate schools in the country. Sandia National Labs has been a sponsor of the program for four years, has successfully placed FSAE program as interns and in all positions within the organization.
"Honda Research and Development of America hired four UNM FSAE students out of the 22 positions they filled a couple of years ago," reports Russell. "And it's not just the national labs and the auto industry that hire our students. With the skills they learn, our students are hired by a broad range of industries."
Sponsors are key
Russell also works with the team to solicit sponsorships. "The generous support of our sponsors enables us to provide this program and we couldn't do it without their support," says Russell. He notes that over 60% of the sponsorship funds are from Lockheed Martin/Sandia National Labs, ASUNM and UNM. UNM provides excellent support compared to most other schools. Dozens of other sponsors contribute in-kind donations, including equipment, services, and technical support.
"FSAE has very strict regulations about every facet of the competition except budgets and sponsorships," notes Russell. "Some teams have million-dollar budgets, are supported by international corporations, and have multiple facilities for the students. Our team gets better almost every year and made it to the top 10 this year with just a $60,000 budget." He stops for a second, and then adds with a smile, "Just think what we could accomplish with more support!"
See the slide show on UNM Flickr