UNM team to compete in Solar Splash competition
June 6, 2016 - By Kim Delker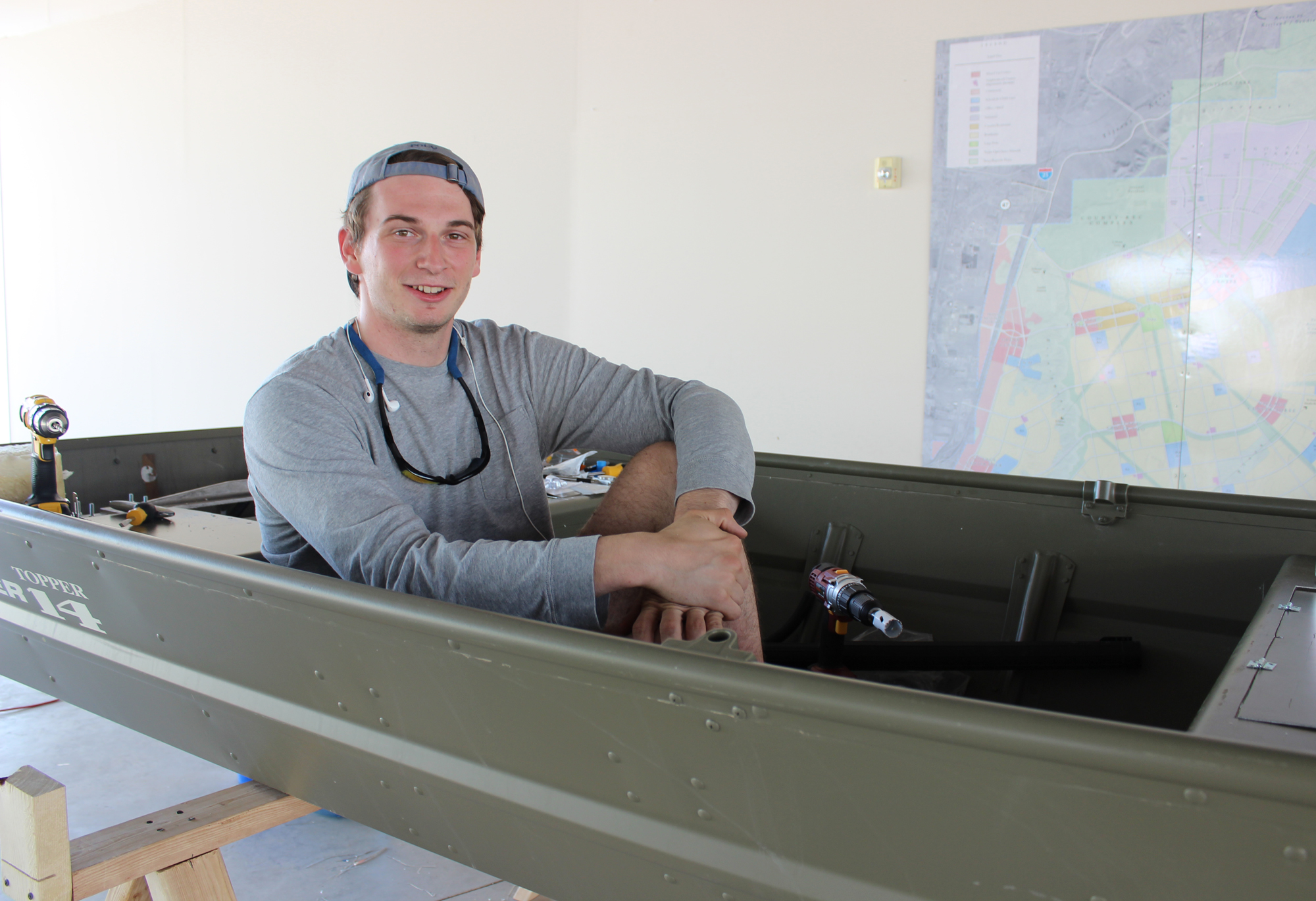 For the first time ever, The University of New Mexico will have a team competing in the Solar Splash solar boat competition, being held June 15-19 in Dayton, Ohio.
The team of nine students has been working on the project since last fall, said Lucca Henrion, team lead who recently received his bachelor's degree in mechanical engineering.
He said the team was formed after he and another student worked to restart the UNM chapter of the American Society of Mechanical Engineers (ASME), which had been dormant for many years. He was soon approached by Roy Hogan, manager of thermal sciences and engineering at Sandia National Laboratories, and joined later by Jason Neely, an R&D electrical engineer at Sandia. Both do work in either solar or renewable energy, so they had an interest in supporting a local team for the competition (Neely is serving as a judge for the competition).
The jon boat was purchased from Rocky Mountain RV & Marine, then modified to accommodate various power components, which include three rechargeable batteries powered by around 525 watts of solar panels, said Joshua Stewart, is a master's student in electrical engineering.
"The design is open to our own interpretation," Henrion said.
The team started coming together in October, and they were able to get the boat project approved as a senior capstone project, advised by Peter Vorobieff, professor of mechanical engineering.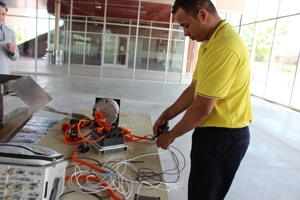 Henrion said most of the team is made up of mechanical engineers, but since a crucial part of the building of the boat involves electrical components, a couple of electrical engineering students are members of the team.
"Having electrical engineers on the team brings a lot of knowledge to the team," said Scott Garner, who just received a bachelor's degree in mechanical engineering and will be continuing on for a master's at University of California, San Diego. "We couldn't do it without them."
At competition, the boat will be judged in several categories, including endurance, slalom, speed, design and the team's presentation and technical report.
Henrion said although the team has spent thousands of hours on the project and it's been stressful, he said he is proud of the way it's turned out. Later this summer, he'll be heading to the University of Michigan to become a Ph.D. student.
"The whole team came out for Memorial Day to work on the boat," Henrion said. "There's a hum to it when everyone has a role to do."
Henrion said the process has been educational, not just from a technical aspect, but also in acquiring management, communication and even fund-raising skills. The team has a variety of sponsors, including Sandia National Laboratories, UNM, ASME, IEEE and Sunpower by Positive Energy Solar. And the team secured build space for the semester at the Mesa del Sol facility south of campus. The space was donated by Steve Chavez, CEO of SC3 International.
The boat will be painted red and silver, and named Jolly Roger, for Roger Koerner, who donated to the project. Koerner received a bachelor's degree in mechanical engineering from UNM in 1968 and is retired from ExxonMobil.
To donate or learn more about the UNM Solar Splash team, go to http://unmsolarsplash.com or the Solar Splash competition site at http://solarsplash.com