Harvard Club visits Centennial wet labs
April 18, 2017 - By Kim Delker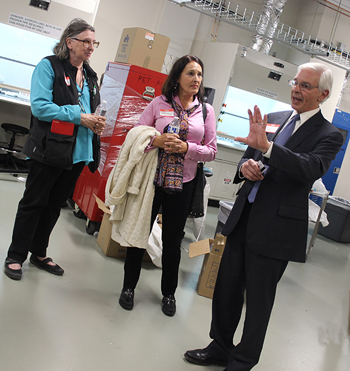 The Harvard-Radcliffe Club of New Mexico visited the Centennial Engineering Center on April 12. The visit was hosted by Joseph L. Cecchi, Jim and Ellen King Dean of Engineering and Computing, who received his master's degree and Ph.D. from Harvard in 1969 and 1972, respectively.
The alumni group visited the School of Engineering to learn about and tour the recently-built experimental wet labs in the basement of Centennial. These labs, formerly housed in Farris Engineering Center, moved into Centennial permanently after the renovation of Farris began last fall. That renovation is scheduled to be completed in late fall 2017.
The architect for the wet lab project was McClain + Yu, an Albuquerque architecture and design firm started by Harvard alumni Raimund McClain and Kristina Yu. Raimund was the principal architect on the wet labs project.
Abhaya Datye, Distinguished Regents' Professor and chair of the Department of Chemical and Biological Engineering, and Anil Prinja, professor and chair of the Department of Nuclear Engineering, along with Youho Lee, an assistant professor of nuclear engineering, led the tours, along with Cecchi, a professor of chemical and biological engineering. The group toured the catalysis lab, the thermal fluids experimental validation lab, and the plasma and thin films lab.