UNM student creates first augmented-reality app that visualizes atoms
October 3, 2017 - By Kim Delker
A University of New Mexico student took a leading role this summer in creating a smartphone app that does something no other app can do — visualize atoms using augmented reality.
Jonathan Barndt, a junior in the Department of Computer Science, created Atom Visualizer during an internship over the summer at a Silicon Valley-based technology developer called Signal Garden and was tasked with creating an app that can visualize the structure of atoms. Several scientists had requested that an app like this be created by the company. It is the first app created using Google's ARCore technology.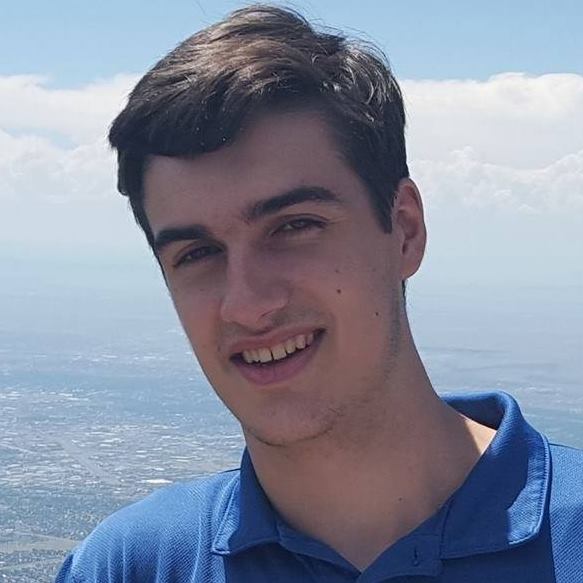 The Atom Visualizer uses augmented reality to create 3-D animated visualizations of atoms using the camera on a smartphone, and the atom can be placed wherever the user chooses — on a desk, a wall, or a screen, for instance.
Tapping a button on the app lets the user choose any of the 118 elements of the periodic table, displaying both the Bohr model, which presents the atom as a shell containing a nucleus and the electrons in orbit around it, and the quantum mechanical model, which presents the atom as an electron cloud. These types of applications are useful to both scientists and science teachers.
Barndt, a Massachusetts native, was able to secure the internship through the National Science Foundation-funded STEP Program at UNM. He created the app in just eight weeks, with guidance from two engineers, Dylan Hart and Omar Shaikh.
The app was created for ARCore, Google's Augmented Reality phone technology. It can also be used with the iPhone 8, which has AR capability. The app was launched in early September and is a free educational app. It can be downloaded from Google Play.
The app also features a Wikipedia button, which users can tap to learn more about an element.
Barndt said as a computer science major, he was somewhat familiar with the periodic table, but spent a lot of time studying it to make sure he was able to visualize each element accurately.
"We had to look at electrons, protons, and neutrons and make sure everything was correct for all 118 elements, cross-referencing information with a lot of sources," he said.
He said they originally had intended to also include the isotopes, but that would have been a more complex and complicated process, so they abandoned that part of the project.
A UNM nuclear engineering professor who was an advisor on the project said this app, and future possibilities with this and similar technology, hold great potential for advancing science and engineering.
"Explaining the atom and its nucleus is a difficult task due to the length scales involved, but the AR Atom Visualizer is a great first step toward producing a valuable tool that can be used for education and research," said Cassiano de Oliveira, who worked with Barndt. "The app's AR potential should get the scientific community excited because one could envision the phone being used, for example, with radiation detection capabilities and being able to inform the user of the probable nuclear reactions taking place and the likely isotopes involved."

Barndt said one unique aspect of this internship was that it was done all online, so he was able to go home to the East Coast for the summer and interact via conference call, Skype and Slack with engineer teammates from Florida, California, and Tennessee.
"I only see more opportunities like that in the future," he said.
While Barndt is still an undergraduate and deciding which area he would like to work in, he said this project has taught him a lot about the process of creating technology, as well as the technical aspects of user interface design.
"It's definitely piqued my interest in this area," he said.