New Mexico astronaut speaks to FSAE class
October 18, 2018 - By Kim Delker
Harrison Schmitt is the most recent living man to walk on the moon, but Wednesday, he walked into a classroom full of Formula Society of Automotive Engineering (FSAE) students at The University of New Mexico.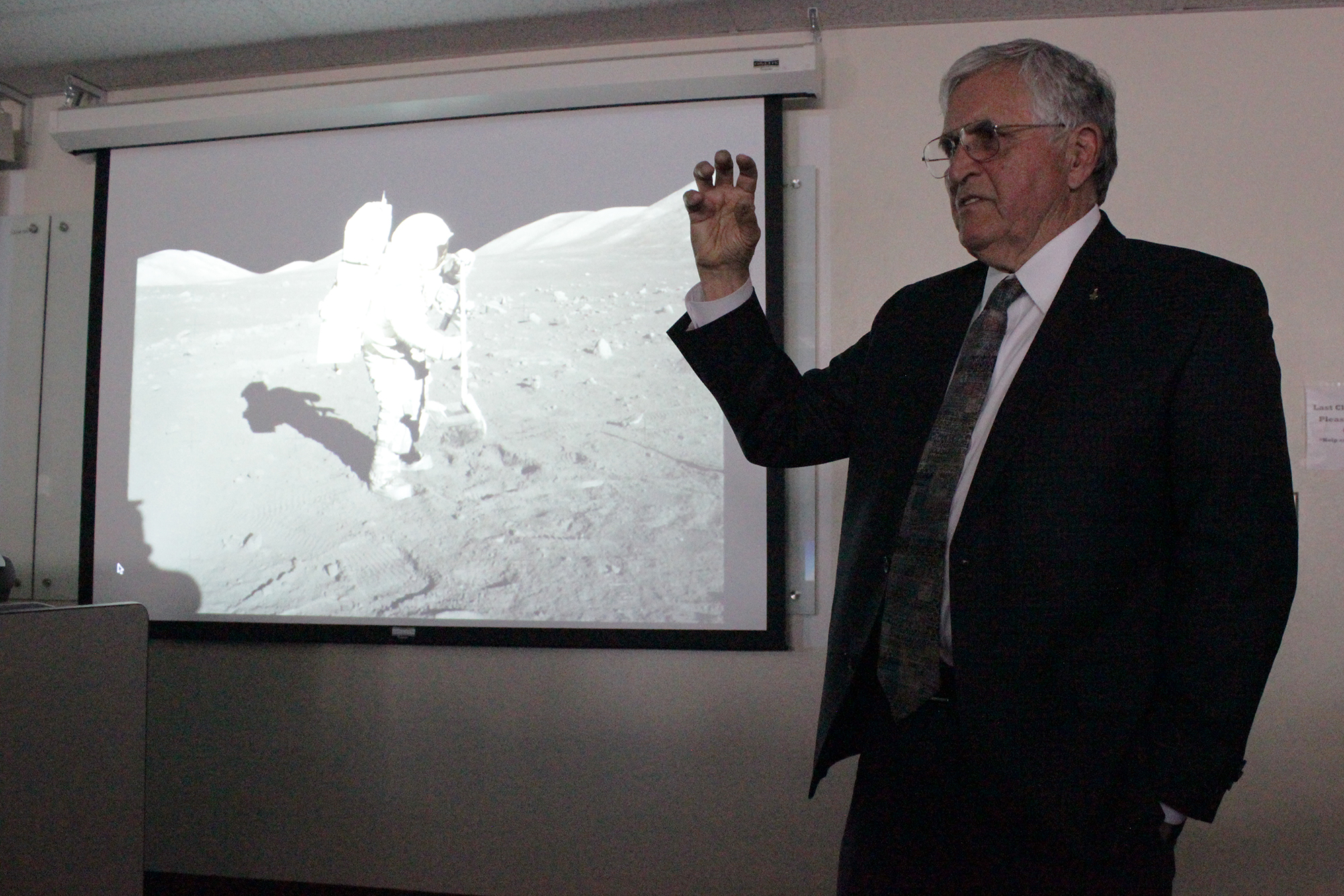 Schmitt, who was part of the Apollo 17 mission in 1972 and the 12thman to walk on the moon, was invited to speak by John Russell, mechanical engineering professor and director of the FSAE program.
Schmitt was born in Santa Rita, N.M., and grew up in Silver City, N.M., spoke to the class about the engineering and project lessons he learned from being part of the early days of the space program. The title of his talk was "Apollo Management Lessons for Moon-Mars Initiative."
Throughout the talk, he shared the insights of what he learned as a young scientist and a member of NASA in its early years. His lessons were applicable not just to space flight in the 1960s, but to engineering project management today.
Schmitt was trained as a geologist, having received his bachelor's degree in geology from Caltech in 1957 and his Ph.D. from Harvard in 1964. He also did graduate study at the University of Oslo. He said he was fascinated by the early attempts at space exploration he was hearing about while in graduate school and was eager to get involved.
After he left NASA, he became a U.S. Senator from New Mexico from 1977-1983.
He did extensive moon rock collection while walking the surface of the moon during the Apollo mission and said scientists and engineers are still gaining knowledge from the samples that were collected 50 years ago.
His practical advice for the engineering students included to keeping your focus on one project at a time and managing resources effectively so there is always a reserve. He said stable annual funding of a project is needed to deal with unknowns. He also advised resources to run parallel systems so that a team is always prepared for the unexpected.
Schmitt continues to advocate for space exploration, and says that exploring space is critical for our U.S. defense, as well as scientific knowledge advancements. But he acknowledged that deep-space exploration is still risky, and many young engineers will have a learning curve since pioneers of space missions have mostly retired.
As he showed many pictures from his days in the space program, he noted the complexity of the spacesuits of the time. What was the key to working eight-hour shifts on the surface of Mars?
"Water-cooled underwear," he said. "We could have never done it with air cooling alone."
The LOBOmotorsports FSAE program is a problem-based, hands-on senior design program where over the course of three semesters, students design, build, and race a small Formula-type racecar for international competition. The project includes every aspect of systems engineering, project management, and teamwork seen in a government or industrial engineering development program. In a little over a year, the team takes a system from conception to operation. The program is interdisciplinary and has about 45 students on each year's team. It is one of the few programs in the country that doesn't operate as a club. Instead, FSAE is a for-credit alternative to a senior design project.