Datye receives major catalysis honor
March 6, 2019 - By Kim Delker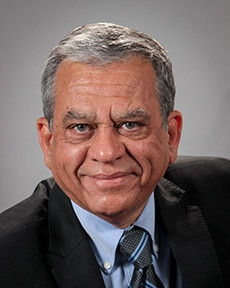 Abhaya Datye, Distinguished Professor in the Department of Chemical and Biological Engineering and Regents' Lecturer at The University of New Mexico, has received the 2019 Robert Burwell Lectureship in Catalysis, sponsored by Johnson Matthey and administered by the North American Catalysis Society.
The award is given every other year in odd-numbered years and will be presented at the 2019 North American Catalysis Society Meeting in Chicago in June.
The Robert Burwell Lectureship in Catalysis is given in recognition of substantial contributions to one or more areas in the field of catalysis with emphasis on discovery and understanding of catalytic phenomena, catalytic reaction mechanisms and identification, and description of catalytic sites and species. The awardee is selected on the basis of his/her contributions to the catalytic literature and the current timeliness of these research contributions. The recipient may be invited to visit and lecture to each of the affiliated clubs/societies with which mutually satisfactory arrangements can be made and prepare papers for publication covering these lectures.
Throughout his career, Datye and his research group have clarified relationships between the atomic-level structure of heterogeneous catalysts and their reactivity and/or stability and has introduced new approaches to doing catalysis research that enable the use of electron microscopy to study industrially-relevant catalysts.