Mechanical engineering professor's invention in spotlight at STC forum
April 7, 2020 - by Kim Delker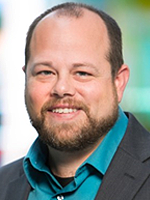 Nathan Jackson, an assistant professor at The University of New Mexico Department of Mechanical Engineering, was one of several local inventors who took part in the Innovate New Mexico Technology Showcase on March 3, hosted by STC.UNM.
The event, which was held at the Event Center at Sandia Golf Club, had more than 150 attendees, which included local and national companies, investors, entrepreneurs, and local business and community leaders. Twelve researchers and inventors from UNM, the Air Force Research Laboratory, Los Alamos National Laboratory, Sandia National Laboratories, NASA-White Sands Test Facility and Johnson Space Center, and New Mexico State University pitched their technologies to industry representatives and investors.
Jackson pitched his Microsystem-Based Aerosol Generator, which addresses some of the downsides of electronic cigarettes and medicinal inhaled drug delivery systems. Jackson's technology seeks to improve upon current technologies regarding vaporization methods, which can have potential health complications. His aerosol generator would provide an alternative method of manufacturing a monolithic microfabricated vibrating mesh atomizer, which could control droplet size and eliminate ultrafine particle formation.
Read more about the other technologies presented at the showcase.