COSMIAC awarded $19 million cooperative agreement for communications, GPS projects
COSMIAC awarded $19 million cooperative agreement for communications, GPS projects
August 6, 2020 - by Kim Delker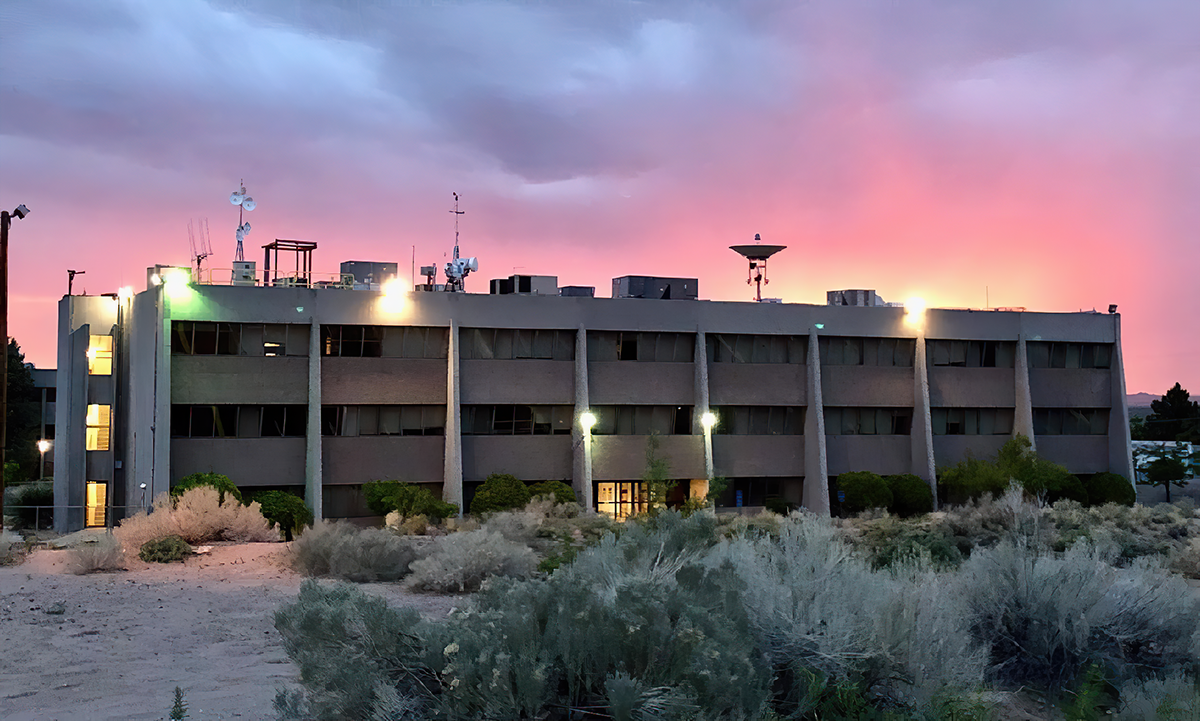 A University of New Mexico research center has recently been awarded a $19 million award to conduct communications, positioning, navigation and timing projects, which have been deemed a priority to the U.S. Space Force and other military and governmental researchers.
COSMIAC, a School of Engineering center that focuses on space-related research, received news of the award in July, said COSMIAC Director Craig Kief. He said it is believed to be the largest cooperative agreement ever processed between the Air Force Research Laboratory (AFRL) and the School of Engineering.
The project, known as COMPNT, focuses on communications, which is critical for space assets. On its facility roof, located south of campus near the Albuquerque Sunport, COSMIAC supports a massive number of radio frequency (RF) and optical communications systems. The testbeds run 24 hours a day, providing communications to other COSMIAC testbeds around New Mexico and to spaceborne satellites traveling 5-miles-a-second in low-earth orbit.
The other area of focus is the global positioning system (GPS), or as it more commonly known in the space industry, positioning, navigation and timing (PNT).
"GPS is everywhere — restaurants, gas stations, basically every financial transaction you make," Kief said. "However, the GPS system is extremely vulnerable."
Kief said that PNT and GPS have become such critical national assets that in February, President Donald Trump signed an executive order that referenced the importance of research in the areas GPS and PNT, particularly in regard to ensuring the safety and reliability of the electrical power grid and communications infrastructure upon which modern society relies.
"The disruption or manipulation of these services has the potential to adversely affect the national and economic security of the United States," the order states.
Kief, who is the principal investigator of the agreement, said that the size of this award is representative of the criticality of the two areas and the need for the type of resources that the School of Engineering is capable of providing to meet the mission essential needs of AFRL and the Space Force.
This award is definitely not the first large award COSMIAC has received — and will not be the last, Kief said. In fact, they are working on a succession of large proposals that are expected to be awarded in the next several months.
COSMIAC was founded in 2007 by Kief, Steve Suddarth and Christos Christodoulou, Jim and Ellen King Dean of the Engineering and Computing and Distinguished Professor in the Department of Electrical and Computer Engineering. COSMIAC, first known as the Configurable Space Microsystems Innovations and Applications Center, has an expansive facility, which includes 15,000 square feet on three floors, as well as a 15,000 square feet high-bay space at a nearby building on the property.
Labs, a cleanroom, two ground stations and satellite communications running 24 hours a day keep the facility humming at all times. COSMIAC supports about 60 researchers in New Mexico and a location near San Jose, Calif. Staffers range from undergraduates (who often get the opportunity to take the lead on projects) to seasoned engineers with decades of experience and demonstrated excellence in their field. The mixture provides a unique, specialized and productive environment that Kief said is responsible for COSMIAC's success.
"People like doing business with us," he said. "We've proven to many customers that we know how to deliver. People like to work with people who get things done."
Kief runs a busy and focused, yet friendly and collaborative, operation at COSMIAC. Hard work is a given, but it is fueled by humor and caffeine, with coffee almost always on in the facility's kitchen.
Maria Daw is COSMIAC's senior program manager and Kief's right-hand person in managing an ever-growing array of proposals, projects and people.
"I think our success is largely due to the connections we make," she said. "We are personable, and in the end, we deliver."
Although the pandemic and its significant travel restrictions have created obstacles (Kief and other staffers frequently travel around the country to meet funders and make connections), it has not slowed them down. Currently, COSMIAC has over 40 active projects, including a $7 million, 5-year contract from AFRL to develop and build new materials and devices for electronics in space. At the time it was awarded in 2017, it was the one of the largest awards in the School of Engineering's history.
"Maria and I put in a lot of time," Kief said. And not all of the work leads to immediate or guaranteed success.
"In baseball, there are a lot of misses. Not every pitch leads to a home run," he said. "Proposals are no different."
Kief said due to a relative shortage of engineers with the needed security clearance to work on government-sponsored programs, it is a continual challenge to find enough people to work on projects. A large number of COSMIAC's students graduated in the spring semester, so they will be looking to hire more students this semester, especially as new awards and projects are announced.