IT questions in Engineering? Meet our problem-solver, Benjamin Murray
January 17, 2021 - By Kim Delker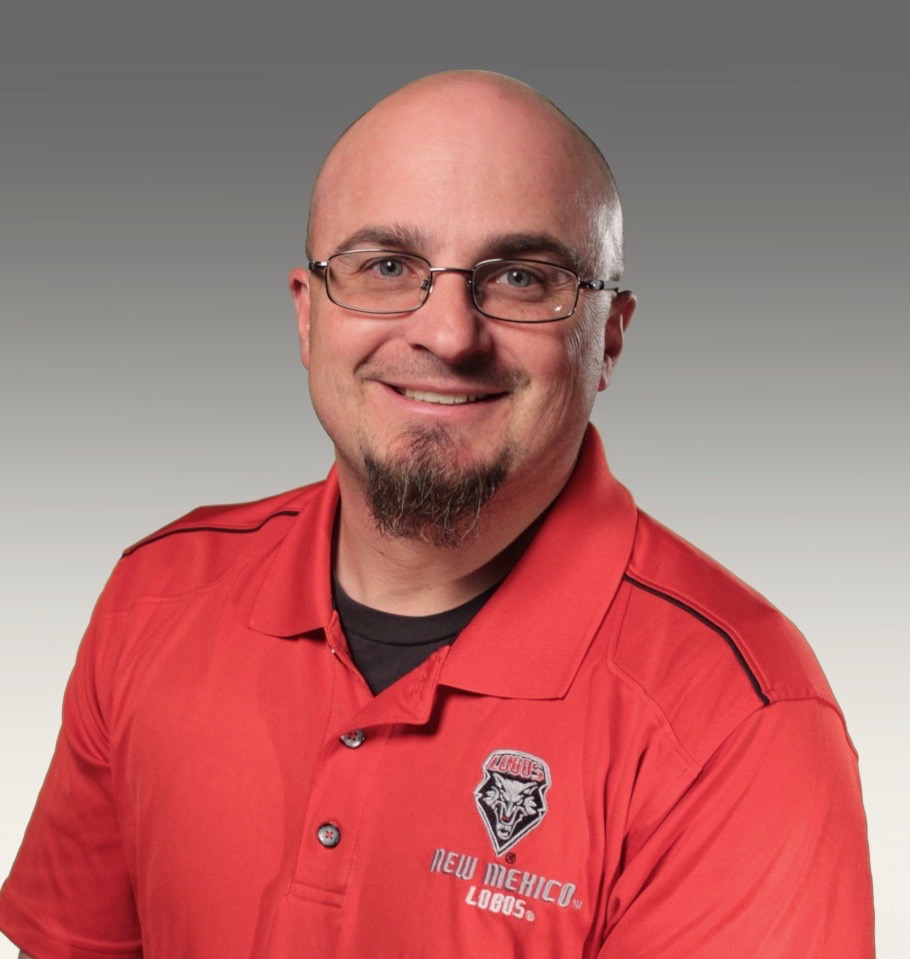 It's no secret that hackers and cyber criminals are on a constant hunt for vulnerabilities in workplaces, especially one with as many employees and students as The University of New Mexico.
And even though the School of Engineering is filled with technology-savvy faculty, staff and students, that doesn't mean that it's immune from danger.
In fact, in recent years, the attempts to tap into large schools at UNM has only increased, from email phishing attempts to trying to access servers where sensitive information is kept. And that's why extra measures are needed to keep data and communications secure and systems updated and running smoothly.
Enter the School of Engineering's very own IT officer, Benjamin Murray.
In August 2019, he became the School's first IT officer, having served at UNM Information Technology since 2015 as a manager of IT operations.
In this role for the School of Engineering, Murray reports to both to the School of Engineering and to UNM's central IT operation but is dedicated to the School as its needs.
So just what does Murray's job entail?
 "The IT officer is the advocate for the School of Engineering's technology needs and core services," said Gregory Gaillard, Murray's supervisor in IT.
Gaillard, the associate director of UNM's core IT services and for IT campus outreach and engagement, said that this role is vital for all the main schools and colleges to ensure operations are secure and the research and teaching enterprises have the technology they need.
Specifically, IT officers like Murray are charged with three main responsibilities in the areas in which they are assigned: security, ensuring a positive end-user experience, and making sure the faculty, students and staff have the tools and technology to do what they need to do.
These tools for a technical and research-intensive school like Engineering are extensive, which requires Murray to keep track of hundreds of requests for software, services and other needs. This ranges from supporting servers where massive amounts of data are stored and processed to making sure that sponsored research — some of it classified — is properly managed and protected.
And the coronavirus pandemic has made things like remote learning technology needs more urgent and important than ever, so that future will most likely include systems to make working and learning remotely more seamless, like remote desktop support.
"We want to make sure that our IT model is as effective and efficient as possible," Gaillard said.
Murray said that he sees himself as the School of Engineering's link to UNM's central IT, from questions or concerns about phishing attempts to ideas for purchasing new research or learning software.
"Anyone in the School who has an IT service request or a request for new software or a renewal of current software, I can help facilitate," he said. "I am here to help anyone in Engineering."
Beginning in fall 2020, Murray has been attending twice-monthly Leadership Council meetings in the School of Engineering to give updates on IT and answer any questions the department chairs or senior leadership might have.
He is an Operation Desert Storm veteran who feels proud to be playing a key role in helping to educate future engineers. In fact, he loves higher education so much, his future plans include pursuing a Ph.D. in Organization, Information & Learning Sciences (OILS) at UNM.
"I love this country and higher ed," he said. "I couldn't be more privileged to work for students, faculty and staff."
Benjamin Murray can be contacted at murrayb@unm.edu