Professor receives NSF CAREER Award for project to facilitate communication of synthetic cells
Professor receives NSF CAREER Award for project to facilitate communication of synthetic cells
February 23, 2021 - by Kim Delker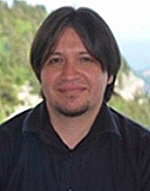 Nick Carroll, assistant professor in the Department of Chemical and Biological Engineering at The University of New Mexico, has been awarded a National Science Foundation CAREER Award for a project that could eventually lead to smart implantable medical devices and other biomedical and technological advances.
The project, "Aqueous Multiphase Assembly of Membraneless Synthetic Cell Structures: Research, Education and Outreach," begins August 1, 2021, and concludes July 31, 2026.
Carroll's research — which focuses on genetically-engineered biomaterials created by the interplay of biology and polymer physics — seeks to develop synthetic cell populations that can "talk" to each other and transmit information, much like the electrical impulses that send commands to a computer or a phone. Instead, here proteins are passed cell to cell, sending instruction through molecules to synchronize cooperative activity in what is known as "quorum behavior."
The proposed artificial cell compartments do not require a confining cell membrane and will promote fast communication through rapid transfer of signaling molecules across open cell boundaries. The ability to control exchange of material between such membraneless compartments is transformative as a technology, Carroll said.
"If we're successful, it will be one of the first classes of synthetic cells to communicate with each other," he said.
Carroll said synthetic cells, collections of biomolecules spatially organized in microbubble compartments, aim to mimic the sensing and communication ability of organic cells, with the added benefit of non-living matter to sustain less-biologically friendly environments. The communication, which takes place through molecular reactions, would allow such applications as sensing for the monitoring of conditions like diabetes and the improvement of implanted medical devices such as catheters by monitoring bacterial levels in the body and even killing the bacteria it finds. Outside the medical field, one application could be in water remediation, detecting and removing metals in water.
"The output capabilities are almost limitless," he said. "The sky is the limit."
Carroll currently is advising four Ph.D. students and describes his work as heavily biophysics-oriented. He occupies lab space on the third floor of the Centennial Engineering Center.
He joined the UNM faculty ranks in 2016, which represented a homecoming of sorts. He earned his bachelor's degree and Ph.D. in chemical engineering at UNM in 2006 and 2011, respectively, then became a postdoctoral fellow in applied physics at Harvard University, later taking an assistant research professor position in biomedical engineering at Duke University.
Carroll, a first-generation college graduate and a native of Albuquerque's South Valley, never really had any thoughts of pursuing college, let alone a successful academic career in a scientific field.
"My family was in construction," he said. "Going to school was not in the cards for me."
Carroll said he "kind of liked math and chemistry," so he decided to take a few courses at TVI (now CNM), then transferred into UNM, which he said was so intimidating, he had second thoughts on his decision.
"The night before orientation transferring in as a sophomore, I didn't want to go," he said. "It was a leap of faith. UNM might as well have been Harvard."
But Carroll soon found a home in the Department of Chemical and Biological Engineering, finding not just a passion for research, but also valuable personal and professional mentors. He credits his success to mentors like professors Gabriel Lopez, Abhaya Datye and Sang M. Han.
"Having those mentors gave me confidence," he said.
It was Lopez who encouraged him to earn a doctorate. Then it was a summer internship that connected him with a professor at Harvard, David Weitz, with whom he would later study under as a postdoctoral researcher in applied physics. His UNM connections led him next to Duke Biomedical Engineering, where Lopez had taken a position, then both returned with goals of establishing New Mexico as a hub for synthetic biology.
Although Carroll said that his time at top-ranked, prestigious institutions was at first daunting, he soon realized that UNM had prepared him well.
"It was a culture shock," he said. "I was surrounded with all these brilliant, highly-competitive people. I wondered, 'Do I have the talent?' Then I soon realized that UNM and the chemical engineering department had equipped me quite well to compete."
He said that fact is what brought him back as a faculty member at UNM. He is committed to encouraging students from backgrounds like his that they can indeed succeed at the highest level.
"I have no doubt our students have the capability to compete at Ivy League schools," Carroll said.
Carroll said he would like to continue to work with young engineers-to-be like he once was, especially from under-represented backgrounds.
"I am Chicano-Native American, and it resonates with many students to see someone in science who looks like them," he said. "I would like to pay forward what UNM gave to me."
He said part of the NSF CAREER project will be to establish a cross-institutional training and education program for Native American students, working with Navajo Technical University. Students will have a chance to learn about synthetic biology, something that is likely not covered in typical college courses, as well as participate in summer research internships in the Carroll Lab.
"This NSF CAREER award funds opportunities for students to do world-class synthetic biology at UNM, an R1 research institution," he said. "I will have a place for Navajo students in my lab."
The NSF CAREER program is geared toward helping early-career faculty get strong starts on their academic careers. The award is NSF's most prestigious award in support of junior faculty who exemplify the role of teacher-scholars through outstanding research, excellent education, and the integration of education and research. Carroll said receiving the CAREER award is gratifying. "We all strive to be good at what we do, and it's a validation that my scientific research program is moving in the right direction," he said.
This project is jointly funded in the National Science Foundation's Cellular and Biochemical Engineering Program in Engineering (ENG)/Chemical, Bioengineering, Environmental and Transport Systems (CBET) and by the Established Program to Stimulate Competitive Research (EPSCoR).