Halter elected a member of National Academy of Construction
June 2, 2021 - by Kim Delker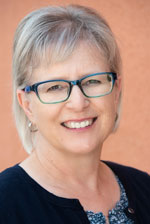 The National Academy of Construction (NAC) has elected Susan Bogus, the AGC Endowed Chair Professor of Construction Engineering and Management in the Department of Civil, Construction and Environmental Engineering at The University of New Mexico, as a member of its class of 2021.
She will be formally inducted Oct. 21 during the NAC annual meeting. She was among 39 new members elected in 2021. 
Election criteria for NAC includes leadership, exceptional service, a continued commitment to making a contribution, past recognition by peers for innovation and being recognized as "best of the best." Bogus was cited by the NAC for her "outstanding contribution in design-build, construction engineering and management, academia, and research to improve integrating design and construction, sustainability, and project delivery."
"Our 2021 class is diverse, experienced, and dedicated. Susan Bogus is a most deserving new member," said Wayne Crew, general secretary of the Academy. "Her contributions to the industry in some many different arenas make her career especially distinguished. We welcome her."
Bogus joined UNM in 2004. Since 2016, she has held the title of AGC Endowed Chair, and in 2020 received the Outstanding Educator Award from the National Association of Home Builders Student Chapter.
The National Academy of Construction, established in 1999, is an organization of industry leaders that recognizes those who have made outstanding, lifelong contributions to the design and construction industry.