Halter elected a member of National Academy of Construction
June 2, 2021 - by Kim Delker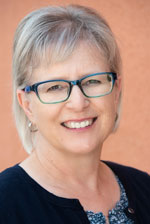 Susan Bogus Halter, a professor in the Department of Civil, Construction and Environmental Engineering at The University of New Mexico, has been elected as a member of the National Academy of Construction.
She was among 39 new members elected in 2021.
Halter joined UNM in 2004. Since 2016, she has held the title of AGC Endowed Chair, and in 2020 received the Outstanding Educator Award from the National Association of Home Builders Student Chapter.
The National Academy of Construction's mission is to establish a body of acknowledged construction industry leaders and to provide them recognition through election to the Academy, as well as provide a network system of linkage between past and present participants in the construction industry.