Godwin selected as UNM Inclusive Excellence Scholar
August 16, 2021 - by Kim Delker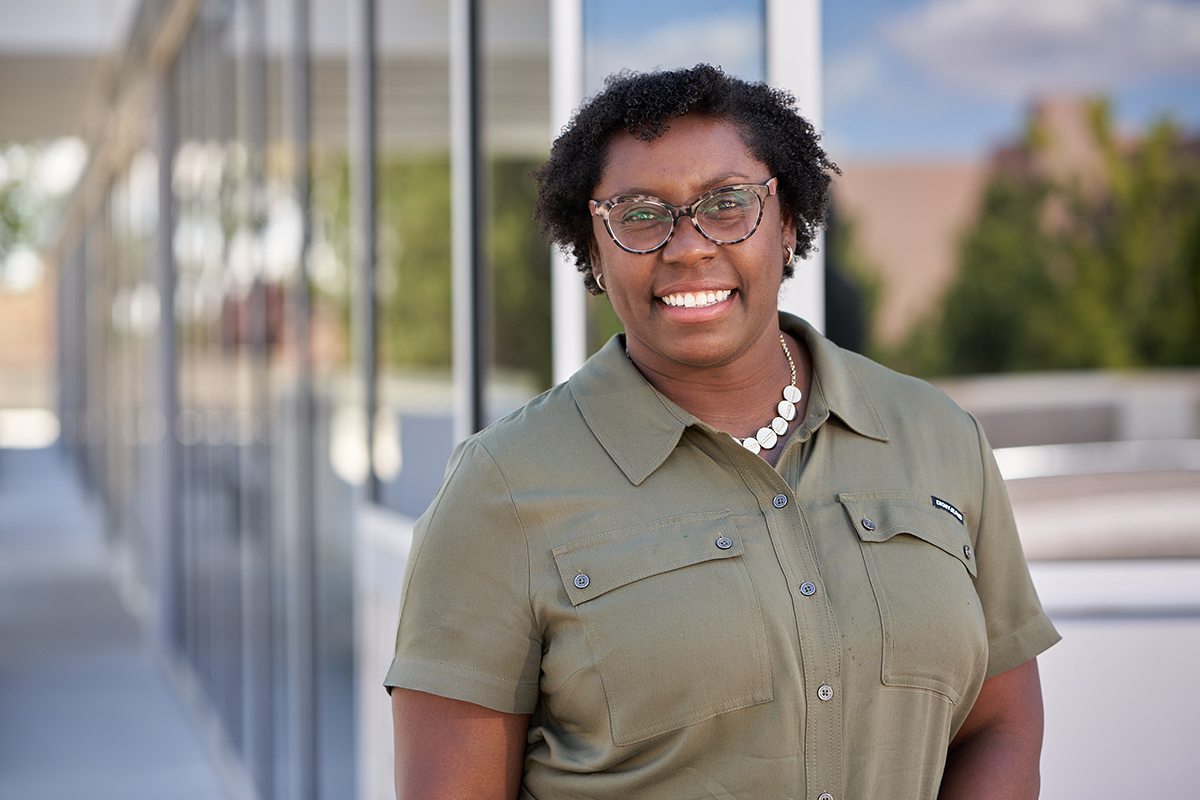 Liz Godwin, PhD
Liz Godwin, a research associate professor in the Department of Electrical and Computer Engineering at The University of New Mexico, has been selected for the 2021-22 UNM Inclusive Excellence Postdoctoral and Visiting Scholars Program.
The goal of the program is to identify individuals from underrepresented racial/ethnic minority groups (African American/Black, American Indian/Indigenous and Latinx), or women traditionally underrepresented in STEM areas or other fields, who are potential candidates for campus positions that would help to diversify the faculty and promote strategic hiring goals.
Those selected receive a 12-month stipend, plus additional funds for research, travel and other expenses. The appointment begins with the fall 2021 term.
Godwin has a Ph.D. in materials science and engineering from the University of Florida and a bachelor of science degree in mechanical engineering from Florida A&M University. Her main research focus has been on the synthesis and characterization of electronic materials.
She began her studies focusing on ceramics, sensors and semiconductors, then transitioned into the biomedical applications for 2D materials like graphene foam that can be used in developing bioscaffolds for applications like tissue regeneration. Previously, she held positions at Intel in Arizona for many years before transitioning to academia at Boise State University.
As a part of her new position, she will work with Sandia National Laboratories in a new program she helped develop in collaboration with Julie Coonrod, dean of UNM's Graduate School. The program will recruit undergraduate engineering students from Historically Black Colleges and Universities (HBCUs) and minority-serving institutions to enroll as master's degree students in the School of Engineering. Sandia supports the professional development of the students through an internship where they will also complete research for their thesis work.
Godwin, an HBCU graduate, is passionate about mentorship and broadening participation in engineering. She will provide mentoring to these students as they obtain their graduate degrees.
Godwin said the goal of the Sandia-UNM partnership is to increase the number of underrepresented engineers at Sandia, and to give the students a strong foundation by earning a master's degree from UNM.
"There is still a lack of diversity in these fields, and I want to have to have an impact on broadening participation in engineering," she said. "This partnership will help to develop a pipeline for diverse engineers at Sandia while also helping these future engineers through the advanced training they desire to be successful in their careers."
During her appointment, Godwin will also complete research at the UNM Center for High Technology Materials, continuing her work on electronic and biocompatible materials based on graphene. She will also continue development on conducting inks which are used in the printing of sensors on highly-elastic substrates.
In addition to research, she will lead the emerging Engineering Honors program. She has been the instructor for the ENG 180 – Engineering Honors Seminar since arriving at UNM last year. The Honors Program will allow motivated students from all areas of engineering to be challenged in how they will apply their engineering knowledge and will offer leadership opportunities.